THH: Liar Liar, World on Fire
February 20, 2015
Um, sis. I need to ask a serious question to you.
C'mon, this English paper is due tomorrow. What is it?
Sis, all the talk in Mrs. Finney's class—about pollution—it scares me.
Oh yeah?
Yeah. It's not really that bad, right?
Well, it is really bad. I won't lie to you.
But why is it so bad? Why aren't we doing anything?
What do you mean?
My teacher says we dump as much as 8 million tons of trash into the ocean. And every year! Sis, why would people do that?
You're only eight. You don't need to worry about that.
But haven't they seen the fish? And the coral reefs and the dolphins? And even the sharks, and, and…
Not all people appreciate that kind of stuff.
But it's killing the sea!
Please don't yell. There's not much we can do—
And all that trash. Sis, all that junk. And my teacher says that even though some people say they collect recycling, but…
What?
…they don't always. They lie to us. Not all the recycling goes in the recycling.
I know.
But why would they do that?
That I don't know…really. But you need to chill out, okay? 
How?! I need to do something! Sis!
What, what can you do?
I…
Build a compost bin?
Yeah! I'll do that! I'll do that now…
It'll stink too much. Besides, where would you keep it?
It'll go next to my goldfish, Crimson. And I'll plant a tree…and I'll recycle my own stuff. You have to do it too.
Look, but…see, my point is nothing's going to change. That's my English paper, see. A whole society has to conform before anything happens. And sometimes, by then, it's too late.
But sis…that's not okay. That's not okay at all.
I'm sorry, sis.
But—but, you don't UNDERSTAND! It's estimated in the next ten years those millions of tons will increase! And you know that place, the city China? It—
China's not a city, Amelia.
But that's worse! It's estimated to have an increased 400% chance—of people getting lung cancer from the air pollution! The same thing Gramps died of!
I know. That is awful.
You still don't understand…sis…all these bad things are happening to the world, and by the time I get to do stuff…the world will be ruined. I'll STILL BE ALIVE when the world finishes dying!
Sis. Shhhh.
No. No. All of you will be gone by then, and so you don't have to worry about this!
Amelia, you're eight and I'm fourteen. I'll still be here for a while too.
Then…then you have to understand.
I do, but…
…
Sis?
…what is it?
Sis, I'm so scared.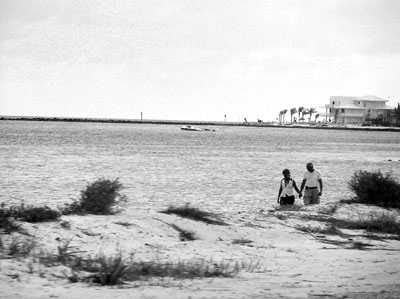 © Edgard B., Coral Springs, FL