Everything About You–
April 23, 2010
Everything about you may not be just like me, but everything that is not, perfectly fits into my empty, other half. Imagine a broken, shattered vase, once holding a dozen wild flowers of every color: dandelion yellow, sky blue, radiant red, lightened pink, perfection white, fire orange, and deep violet. Instead, the vase is shattered against the concrete side walk. As each pedestrian walks their protected feet upon the already broken glass, crushing the stems and breaking off the petals, the glass lays there, untouched and unnoticed; that is, until another crystal vase breaks. Miles away, lain across a different sidewalk, and being trampled and crushed by different pedestrians, lays the other once beautiful vase. Surrounding the vase, the same flowers sleep, sprawled about: dandelion yellow, sky blue, radiant red, lightened pink, perfection white, fire orange, and deep violet.
When something breaks, it cannot always be pieced back together, especially a glass vase; some pieces are too small to rearrange and glue into the right place –because where are those pieces to be placed? When a vase shatters, another perfect, crystal flower ladle needs to be bought to replace it, but not to leave out, then new flowers to be picked and placed within. As all the wholesome pieces of the broken, shattered vase are gathered up into the arms of someone who loves them dearly, the other crystal, broken vase is tended to in the same way. What are the chances, together, the two vase's wholesome pieces' could directly fit into each other, every crack and crevice? Two in 6.8 billion are the chances. With every shattered, destroyed, and broken piece left of the two once perfect curves of glass, they fit into each other with elegance and proportion that makes you wonder –Isn't being completely shattered worth it if you find another shattered perfection to transform you in the end and make you whole? You are my other vase. In perspective, our glass, our shine, our stance, and curvature is exactly the same. From a distance, we are identical, to me. But within the ear-shattering screams and scarred upon skin, we are different. We are different in a way that allows the pieces broken and missing to be filled with another. And in the end, we are the perfect vase, carrying the perfect dozen of dandelion yellow, sky blue, radiant red, lightened pink, perfection white, fire orange, and deep violet flowers.
As for all of the things we have in common and make us alike, I could go on and on, never seizing to stop talking. Love and passion we have for words, is alike no other boy I have connected with. There have been few who have the same talent and perspective as I do, whose words seem to leave me speechless, whose effort proves their point. When you speak, I am left in awe of the way you do so. The beauty in how you align your words leaves me struck, leaving me trapped to think before I can even respond. The butterflies you let loose inside me are like a butterfly garden; they swarm and meander around the garden, playing their games of land and leave upon the petals –our petals. I cannot help but to believe, because I believe everything you say, you feel the same way. The words I find and speak leave you unable to react beyond smiling. When talking about yourself, you may use the words "lame" or "sexy" or "loser," all of which remind me of myself. The sarcasm and unsteady awareness of how you actually are heart-beating attractive and well performed charismatic, shows me you are not cocky or full of yourself, alike myself. You are just enough and so much more, which I am to you.
The relationship you and Zach have is something to cherish and appreciate, just like Kiki's and mine. Siblings are rivals; beating, stealing, hating, name-calling, war-like humans with the same blood filtering through their very veins. To us, our siblings are a best friend. Someone we know will always be there, and sure, we remain stuck with them day after day, but we would never trade it for the world. Well, maybe for each other. Not to leave out how sexual sarcastic you are with Zach. In one video, (may I tell the world?) you and Zach pretended to play with a sword, which you set upon your lap like a male reproductive organ. In between laughs and "wows," the two of you messed around saying hilarious comments back and forth, just like Kiki and me. May I also add in (to humiliate myself now), Kiki and I spank one another and say things like, "Oh, you know you like it." Our relationships are one of a kind, not unhealthy, but free-spirited.
You may think you are "lame" for the online role-playing games you have and still do play, but have I not admitted I too have played WoW? May I be a "loser" and "lame" as well, as long as it is yet another lovely thing I have in common with you. I may not play COD live, but I sure as hell play when I get the chance. Video games have become a pleasure to me, especially Nazi Zombies. Also, our taste in music is quite similar. I do not know what I would do if you were into "rap crap." It simply is not me. Your non-existent pursuit in eating hamburger meat, pork –things like that –are yet another thing we have in common; me being a vegetarian, maybe you do not have the same belief's, but it is still quite remarkable to me.
Something we can agree on, our emotions and past feelings were very much alike. Hiding behind a mask and unable to tell your family and friends how depressed you really were, once came to both of us for an extensive period of time. I spent a long time in that world, only to be brought out sometimes, and trapped back inside when trials occur. I remember when you told me I did not want to be friends with you; I could not process why. I loved everything about your personality so far, and I wanted to get to know you better. You thought I was this bubbly, talkative person who got over my problems like they never even happened. Later you found out, that was not true. Just like you did to me, I hid that part of me for fear you would not want to continue being a friend of mine. Boy, were we mislead. We understand each other better within a few months better than some people understand each other within a lifetime.
The things we want in life and our point of views match up so accordingly, I would think you have been my best friend my entire life. It is as if you and I have grown together, matured together, and became individuals together as one person. We fit within each other's broken, glass to recreate the most beautiful display of flowers any florist has laid eyes on. Perfection can be found within the flaws.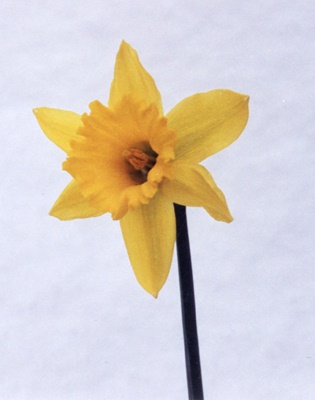 © Kaitlyn H., Ludlow, VT