The Boy Study
August 22, 2010
I've been waiting very patiently for about a year now to have my first boyfriend. In the meantime, I've been studying boys, and reasoning why I can't get one to like me, while the boys are falling over themselves to date the girls who dress in designer clothes.
First, my standards are very high. And unfortunately, most of the boys I know are just not at an age that can fit my standards. They make crude jokes, they push each other around, they get D's on their homework, not because they're stupid, but because they simply don't give a damn. And I can't like them for that.
Second, boys don't think the way girls do. Most boys actually put a lot more emphasis on a girl being pretty than the girls do to themselves sometimes. There are two types of boys in this category: the "players", the ones who are on the lookout for hot girls to date all the time, and are just concerned about getting into a girl's pants (or skirts, in my situation. Stupid uniforms!). Then there are the others. These ones simply don't care enough to actually talk to a girl, unless she's interested in the things they're interested in. Their thought processes go something like this: (and I got this from a real boy, so it's accurate) "Look, there's a cute girl. Maybe I'll talk to her." And then they don't.
Third, the girls who dress in expensive designer clothes and put truckloads of makeup on their faces? They actually have great charisma around boys. They might be absolute b****es to you and the rest of your girlfriends, but watch them when they hang out with their boyfriend. Much nicer, huh? And as a side note, those girls usually have player boyfriends. And you don't want a player as your boyfriend.
And fourth, if you really want a boyfriend (who's not a player), then go hang out with them. It'll be easier for them to eventually see you as more than a friend if you start out as being good friends first (this also from a boy).
Wait! One more thing. For a lot of boys, it's really difficult to ask a girl out. They find it much harder to express their feelings than girls do, because it's not "socially accepted" for boys to be emotional. So don't be afraid to ask him out! Boys generally don't care if it's a girl who does the asking, just as long as it gets done.
I realize in this article that I am generalizing boys. I'm sorry if I've offended anyone, but this is true to my personal experience. I'd love for some boy to come along and prove me wrong.
So good luck, girls! I hope this helped you understand boys a little better. Go out and put this knowledge to good use!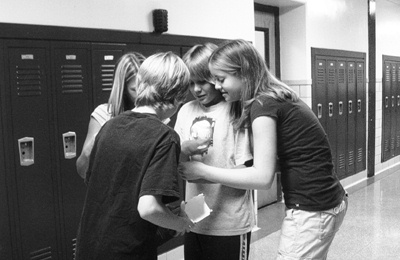 © Kathryn K., Pompton Plains, NJ