Why Date? An Argument Against Teen Dating
April 29, 2011
Give me one good reason on why to date.

There seems to be this wave of mush flooding through teens. Everyone has (or needs) to be in a romantic relationship somehow.

Why?

So you know where I'm coming from, I'll tell you who I am. I'm a sixteen-year-old girl, who has never had a boyfriend; ever. Gasp! Did she just say what I thought she said? Yep I did. (Now close your mouth, unless you want flies in there.)

You may be wondering how that's possible. How I can live sixteen years without a boyfriend while you've had one since you were in the 6th grade. Well, to answer some of those questions floating in your mind, I'll tell you, I'm not ugly. And no, I'm not some sort of invalid. I can still hear, see, and speak. I don't have any peg legs or false teeth. And it isn't that guys have never asked me out. I've had offers. I just refuse to date. Oh, now you think it's a mental issue, huh? Just hear me out for the next couple minutes alright? Then you can argue with me.

So, what are some of the reasons to date? I've had quite a few discussions about the dating topic with my friends, most of who think that it's an okay thing to do. And I respect them. And I'm sure they shrug their shoulders and respect me, too. But that doesn't stop me from trying to understand. I really am trying to understand. I just haven't heard an answer that makes sense yet. Take these for example.

Why date: to get to know each other. Come on, seriously? "To get to know each other"? Like there's some invisible rule stating that you can't get to know a guy until you date him. Here's my view: what if you're dating and you realize that you don't like him, or he just does something that makes a massive buzzer go off in your head, indicating he's a no-go? Now you have to go through the painful, dramatic, and heartbreaking exercise of breaking up with him. If you had only stayed single, you could've spotted those things and saved yourself time, money, and energy. Not to mention, you'd be free of haunting questions like, "do I attract the worst guys?", "do I have horrible taste in guys?", "is there something wrong with me?" etc. All of those negative thoughts just came out of something so minor that you could have avoided it altogether! Here's another one.

Why date: so you know what kind of people you're interested in. What's that saying? Something like, "you don't know your favorite flower until you've stopped and sniffed the roses." Basically, you don't know unless you try. Fair enough. Okay, I'll bite. So, how is dating different from being friends? You can hold hands in public? Kiss? Sure. But does that have anything to do with finding your soul mate? The whole reason to date is to find the person you're eventually going to marry someday, right? So why would you want to make the greatest mistake of giving those precious little gems like your first kiss to just anyone simply because you're dating?

Isn't it more romantic to have your first kiss come from your spouse? To honestly tell your kids that the first hand you held was their father's? Why would you want to give that away just to sniff flowers that have already been sniffed?

Guys aren't flowers. Take it from the only girl in a family of boys. They're not. But guys can actually talk. They can react to what you say and tell you their views and opinions. All you have to do is ask, no dating necessary. So WHY THE HECK IS EVERYONE DATING? Sorry. Lost my cool for a second.

It isn't that I don't understand the thrill of finding that your crush likes you back or the zap of horsepower that goes from your head to your toes when he calls you "his" girlfriend. But are those little things worth it in the long run? Call me crazy, but a big turn-off for me is finding that the guy has had a girlfriend. Yeah sure, we've practically established: I'm insane. But I wouldn't want him to expect something from me that I can't (or won't) give, just because he's gotten it in the past. And I wouldn't want a guy who has already given himself away just because he wouldn't wait for me. I'm holding strong, so why should I settle for anything lower from him? Anyway, this isn't about me. It's about you, the regular teen, and dating.

So it all comes back to the same question: why date? I can tell you a million reasons on why not (as I'm sure you've noticed). But why should you? Why do you? Peer pressure? Those happy little moments? What is so important that you'd rather give yourself away instead of waiting for your spouse?

All I see is heartbreak, putting your whole happiness into some guy's hands for him to crush it, blindly giving yourself, and all for what? No, I don't understand. Will I ever? I'm not sure. But for now, this is what I do know. My name is Rebekah Koontz, I'm sixteen-years-old, and I plan on staying single.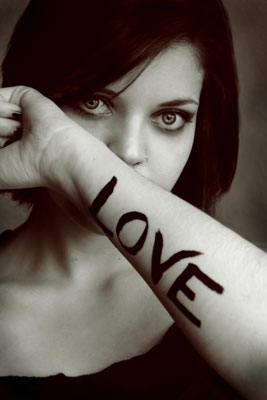 © Michelle B., Blairsville, GA