I Do ?
January 16, 2012
Marriage - "the state of being united to a person of the opposite sex as husband or wife in a consensual and contractual relationship recognized by law".
With an almost 50% divorce rate for first time marriages in America it seems that people are taking their cell phone contracts more serious , and with 60 percent of all divorces being related to individuals aged 25 to 39 it seems that the term "young love" has lost its charm. With big time stars like Kim Kardashian and Kris Humphries having marriages shorter than the blink of an eye it leaves a lot of teenagers like me wondering if there are any people out there that still have respect for marriage now-a-days.
Kardashian was quoted saying "I had hoped this marriage was forever, but sometimes things don't work out as planned." If that's not the understatement of the century I don't know what is. The saddest part about this is not even the $2 million wedding ring that could help end child hunger in some places. It's the fact that Kardasian and many other young people are taking the vows of marriage and turning them into a game of some short that you can just turn off when you start to get bored. And in the end, it really isn't even that shocking. It's actually a little pathetic and insulting to the people like my best friend whose parents that have been married for over 30 years now.
I'm not saying that people shouldn't spend lots of money on a ring and other things but what I am saying is that one big party doesn't prove your commitment to someone. If you want to prove your commitment to someone be there for them when they need you, love them with everything you have and don't run away at the first sign of something being wrong. There are couples out here fighting for the right to be married so why are we taking it for granted? If sometimes things don't work out as planed is the only explanation to this foolishness then we as a society are only going to see divorce rate growing higher and more couples like this left torn apart.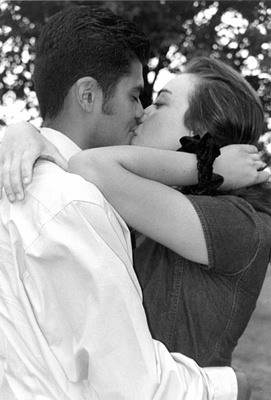 © Yaniris M., Boston, MA