Are teens capable of love?
February 23, 2012
Don't underestimate the power of a small push from a fifth grade boy on the playground. It can hurt. The conflict ends with the girl crying out and saying, "You're not my boyfriend anymore! You're mean!"
Because of that small push, the budding relationship is over in just a blink of an eye.

The moral of the story is that it wasn't really love. It was actually an attachment with conditions, and everything ended because of one mistake. That same thing happens in high school, and people realize it later in life. High schoolers aren't capable of true love; they don't know what real love is.

But then, what is love? A passage from the Bible, 1 Corinthians 13:4-7, gives the meaning of love: "Love is patient, love is kind. It does not envy, it does not boast, it is not proud. It does not dishonor others, it is not self-seeking, it is not easily angered, it keeps no record of wrongs. Love does not delight in evil but rejoices with the truth. It always protects, always trusts, always hopes, always perseveres."
Some parents don't allow their children to date until the middle of their teen years. Reasons for this vary from parent to parent, but most of the time an underlying, yet unspoken, reason is because parents don't want to have their kids hurt (emotionally, that is). In many cases the child does not follow this rule, because they think their parent(s) are wrong.

An article published by The National Council of Family Relations states, "Teen-agers who feel that they are in love tend to be actively repudiating their parents in one or more ways." This means that teens that think they are in love are actually doing it as a retaliation towards their parents. Teens retaliate in this manner because they want their parents to know that they aren't needed to emotionally support them.

Some might say, "It has to be love. I can't think of anyone else! They are all I care about."

"Obsessions are often mistaken for love because people rationalize the crazy feelings they are having. They assume that it must be love if the other person is always on their mind," said Mike Hardcastle, in an article from teenadvice.about.com. He then continues on to say, "Real love is nurturing and helps people grow but obsession is debilitating."

If a teenager mistakes love with other feelings like obsession, it could lead them to some harmful outcomes.

"People in an obsessed state have a one track mind where the other person is concerned and they often lose touch with who they are as an individual," said Hardcastle. "The more time and effort invested in an unhealthy obsession based relationship the more intense the obsession can become and the more damage is done."

The word "love" shouldn't be used so lightly by teens who don't even know what it is. Look back at who you thought you used to love. If you really loved them there wouldn't be others, there wouldn't be a feeling of hate towards the person that broke up with you, and they wouldn't be gone.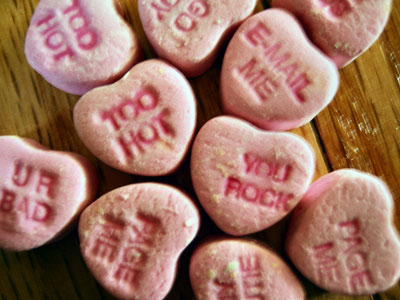 © Valcy E., Stony Point, NY