Boy With The Lip Rings
June 30, 2012
If I knew how to say thank you to him for coming today, I would've. I mean, I'd left a brusque note on his cabin door, "Hey Jeff- I'm gonna be at the library. If you happen to want to come down, we can talk," but I never thought he would. Maybe I haven't had real friends before? I was pissed off. Adrenaline. Blah. Spent hours pointlessly cruising mindless pop star websites.
"Hey, loser."
Our special greeting. I looked up and found that the boy with two lip rings had followed my down on his bike just so I would know that he cared. Right then, I almost wanted to cry. The smell of his cheap-*ss cologne. Hey, maybe he's part of my true family. The one that'd care if I decided to die or something.
So if I knew how to thank him for the two hours he spent wasting time with me, telling me that I should "never call yourself a b*tch; it's one of the most sexist things you can say," demanding that I "keep it positive," but also letting me off with a "don't be sorry for being human, man; eveybody has bad months!".... I would. Maybe this little thing is just my way of telling him that he's a true friend and I love him. Of course I'd never say it to his face- too wussy. (He'd hate me saying that, too.) And I'll probably never show this to him. But thank you, Jeff, for making me push on toward another day.
"It's all you can do, loser."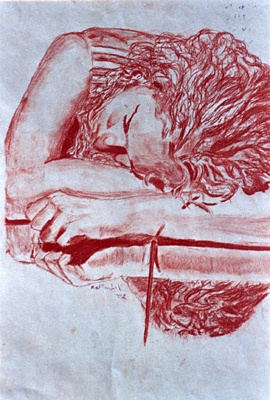 © Mark S., Kannapolis, NC