THH: Pleasure to Please You
December 12, 2014
It was strange for me to learn about the master-slave relationship in ancient times. Because of the environment I grew up in, the idea of existing simply to serve another is a little far-fetched. It seems like a thing that has only existed in the world's distant past, and will stay there.
Devastatingly, that is not true. And as panic-inducing as it is, this parasitic way of thinking (and acting) consumes many of the links we share with other people today. Many parts of the world still struggle with the literal issues of modern slavery and enslavement (shocking and horrible as it sounds), but this also exists in our society, cloaked and shuffling around with ambiguous words pulled over its head.
And what scares me the most is it hides under Love. Love, O Love, in the name of Love! Love, the cocky diamond ring and knight in shining armor—but how does such an evil thing coexist with such happiness? Supposedly, opposites attract. And what I've seen happen are relationships turning into a parasitic tug of war with full intent of sinking both ships.
Hypothetically, this should be a one-ended argument. History has given fair evidence to who should be blamed in the struggle of abuse, and I have never been passive about that. Domestic abusive against women and children is a roaring topic that has moved me, and will keep moving me forward. However, we cannot simply turn to our male colleagues and file their imprisonment applications—that issue goes deeper than that. [And if you feel the same, check out a former Hitchhike, "THH: Feminist, Not A Man-Hater."]
No, another niche this relationship hides in is friendship. I would hope most of us have friends that are a joy to hang around, but for a lot of people it's more complicated. We're talking about the people who inflict pressure on us just by being in the same room, those who we have a mixed chemical reaction for when we see their face.
And what gets confusing is these people aren't always…bad people. Although they may dominate a situation to our personal negative, there may be no ultimate, unending badness of character we can list in our Statement of Proofs. Many of us have discovered the human mind is much more complicated than that. But at the same time, there has to be an unhealthy reason forcing us into these uncomfortable situations. There cannot be thin air on the other end!
And there isn't. Emotions are a two-way street, if not more. A bad situation always relies on two sources to keep it standing upright. Fluctuation can reward you with a Leaning Tower of Pisa, but these things don't rely on themselves. These 3am predicaments, these master-servants come to life, these "Pleasure to Please You" encounters…they will look to a domineering force, and they will also look to you.
Are they staring? They might be. This is when passivity is an insufficient check and still filled in for the taste test. This is when an annoyance becomes a cold sweat and then becomes a fear, and then becomes desperateness. And finally, people feel like there is nothing worth turning back for.
Because you—if I may break the fourth wall here—have the power to dismiss this poisonous opportunity. It is in your confidence and your bravery to end the pleasing, on all the levels that boil down to denying your rights as an individual. You were not born to serve others if you were not born to serve yourself, least of all who force you into thinking that. It is in your capability to stand up for the person you are and want to be—and finally, we will be able to make this truly a problem of the past.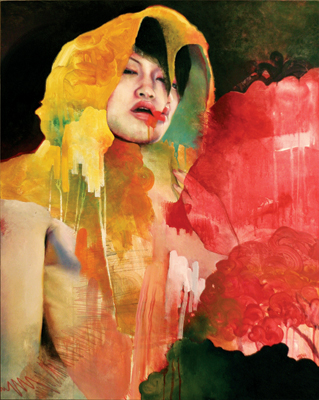 © Winston C., Jamaica Plain, MA