How "Real" is Reality Television?
August 26, 2012
From the dawn of time, humans have devoted their precious resources to fulfilling three basic functions: eating, sleeping, and gossiping. The form of said gossip has certainly evolved alongside civilization; instead of talking about the new yet unsightly bone Wilma is wearing in her hair or the tacky cave paintings Fred is using for home décor, modern humanoids have managed to turn their eyes away from themselves long enough to fixate on something else entirely. When it comes down to it, nothing is more exciting than delving into the lives of people we barely know. Reality television presents us each with keys to the homes of everyone from the infamous Kardashians to the eccentric Osbournes… and once you've unlocked the door and taken a look inside, it is hard – if not impossible – to turn back.

From one standpoint, reality television truly takes its toll on society: the scandalous acts provide a topic of mindless chatter at school and around the office, people become addicted to how the sibling rivalry will unfold week after week, and hours are devoted to sitting in front of a television screen instead of doing more, dare I say, productive activities. We all know that who punched who on the Real World last week is a hot topic of conversation, but it certainly isn't getting us any closer to solving world hunger, curing cancer, or finding alternative energy sources.

As someone who turns to the evils of reality television as an occasional but oh so guilty pleasure, I am not in a position to criticize them completely lest I risk transforming into a raging hypocrite; however, after weighing the pros and cons of their existence on the good ole scale, I can attest to how they have succeeded in changing the entertainment industry for the worse.

Before we talk about the dastardly consequences of reality television, we must sort the shows into two very distinct groups. The first group, feeding off of those who love to see (and in some cases, decide!) the fate of show contestants, include everything from the likes of American Idol to Dancing with the Stars. The second group of shows – ranging from Jersey Shore to Jon and Kate Plus 8 – feature a blend of fresh drama and unbridled promiscuity that thrust celebrities, pseudo-celebrities, and unknowns into the spotlight.

What do these groups have in common, you ask? Their unfailing ability to distort reality rather than promote it. The reality for the Kardashians is that they enjoy the luxuries of America's richest 1-2%; for those who watch their lives weekly, this unattainable lifestyle is but a fantasy to long for. For many "made-for-tv" families and game show contestants, the claim to fame revolves around some brand of scandal, which inadvertently promotes shorter skirts and corrupted morals to America's youth.

From the looks of Snooki and JWoww, the message has been received – maybe a little bit too loud and clear.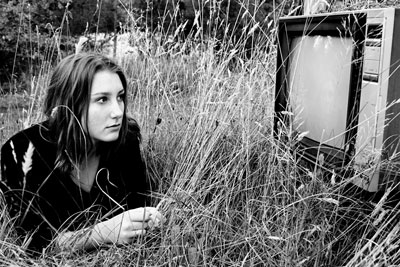 © Garrett M., Port Angeles, WA