THH: Superwoman(s)
October 23, 2015
The expectations for the movies I watch are surprisingly high. Not because I spent most of my childhood glued to the Mickey Mouse-ears-fandom, which I attribute my current emotional resilience. Animated things are just terrifyingly good at breaking your heart into a million little pieces. And not because I died (repeatedly) of excitement, binge-watching The Avengers to an embarrassing extent about three years ago. Er. Still am.
But there's nothing more disappointing than 120-some minutes of carefully filmed lack of material. After all, I enjoy watching dysfunctional people as much as midfunctional people; humanoid aliens; alienated humans. I like weird. I like sweet. I really really like awesome. In fact, the reason my bar is apparently set so unattainably high is because I want to see women on screen.
Only this shouldn't be the impossible demand it is, considering the amount of women actresses that exist. And the Nazi regime you might initially imagine, hint hint, does not.
According to my past writer's slams you may have read (or haven't. You should), I believe definitely and completely in equal representation of all genders. Everywhere. Nobody deserves to be shorthanded for another quality that shapes who they are, and yet does not solely define them. And the fictional worlds of the screen count.
And by representation, I mean the lot of them. Hit Neflix show Orange Is the New Black is unique for its especial female character range, but I also expect to see all kinds of women because there are all kinds of women. On-screen female diversity doesn't deserve to be the awkward "if only" case study, not ever. Why not someone overweight? Someone short? Not Caucasian? Why not someone loud, and bratty, and usually right? Approximately half the human species is female. And if you want pretty, look for the most confident girl in the room. Mindy Kaling, renowned star of The Office as well as her own written/produced/directed TV show The Mindy Project, admitted that she always felt, "…people assume I'm not funny. People will think you're not funny because of the way you look." Indeed, "not skinny…not white…[and] a woman," she describes how those attributes, so undervalued in society, made it extra tough for her to break into the entertainment industry.
Not only is it unfair for the women characters (fictional or nonfictional) that deserve to be patronized, idolized, or dramatized in their own art, it makes a big impression on the next great actors and actresses of the future. The next generation glued to the screen doesn't have to grow up inclined toward the romantic classics of what guys do and what girls don't, or grow up revolted by the few poorly written female roles that do exist. They don't need to limited to believing a surplus of women actresses present is immediately condescended to a 'rom-com,' despite its intended genre, or accept they will always be paid less than their male counterparts.
The world is so much bigger than that—and better. It should be. And some of it starts right here, on top of your Friday night movie popcorn; after all, what you see on screen should resemble like reality. So let's make it one. Lights, camera…and action!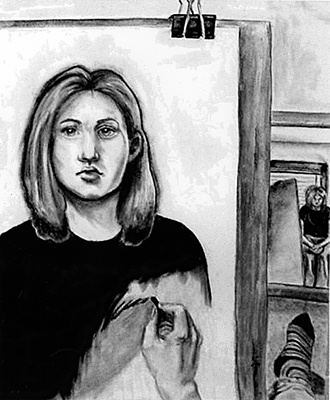 © April K., BR>Haddon Heights, NJ