Self-Control: Cookie v. Carrot
April 28, 2012
You, mentally distraught from a tiring day's routine and nearly ravenous from missing lunch period, find yourself in a treacherous battle with carbohydrates upon arriving home from school – it's you versus the cookie. As if you were placed in the middle of a cheesy television commercial, the kitchen lights automatically dim, and that ever so sweet morsel of flavor beckons with chunks of delectable dark chocolate. Before you lunge toward temptation and surrender your slender figure to mere seconds of pleasure, you somehow manage to divert your attention away from the appetizing delight long enough to notice a splash of orange on the granite countertop – carrot. To succumb to the cookie would bring elation, but this bittersweet happiness will undeniably bring about pangs of guilt when your favorite pair of skinny jeans refuses to button. Your brain tells you carrot, but your taste buds scream cookie. You foolishly yield to the desires of your taste buds, gobble the cookie, and put the vitality of your near perfect figure to the test by attempting to slip on your skinny jeans; the verdict is not one to be celebrated.
Every day we find ourselves sparring in the ring with taunting temptations that threaten to knock out our happiness. In these constant battles – which include everything from resisting cookies to battling the evils of engaging in petty gossip – we must learn to ignore the ringside jeers that tell us our fight is in vain. In doing so, we will come to see just how beneficial it is to have self-control directing our impressive advances from the corner of the ring.
Although the dictionary defines the concept of self-control as the restraint of one's emotions, desires, or inclinations, the notion itself is open to free interpretation. For some, self-control is staying on the Internet for only a half an hour or thinking of excuses not to go the gym. For others, self-control is turning a blind-eye toward the appealing outfits displayed on the mannequins in a store window. Unfortunately, the actual use of self-control tends to be quite subjective and varies from person to person. As for me, the use of self control can be compared to a light switch – depending on the given situation, the dial could either read "on" or "off." Through the many trials and tribulations presented to me by other people and life in general, I have come to realize the importance of keeping that switch "on"… and rue the havoc that ensues while it is "off." Grenville Kleiser had it right when he said the following: "By constant self-discipline and self-control, you can develop greatness of character."
Let us all endlessly strive to achieve this greatness.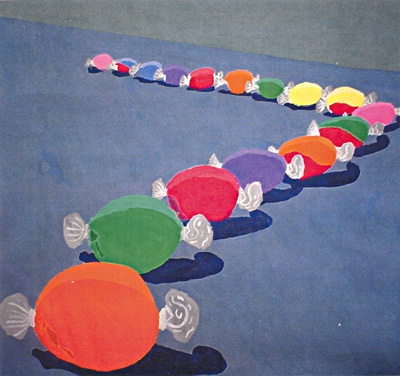 © Adam S., New City, NY