What is appropriate clothing?
September 20, 2012
What is inappropriate clothing for teenager girls? Well, that depends on your point of view, now doesn't it? But from a Catholic point of view, I think most of us can come to a point where we all say "That is very inappropriate,", but what is that point?

Mothers have all got a different view on clothing. Some mothers go shopping with their daughters just to make sure that shorts, skirts, dresses, and jeans meet their standards, while other mothers let their daughters shop for them selves trusting that they can set their own standards. Mrs. Vannoni gave her view on this and said "Clothing appropriateness varies with the location or event, but some thing like pants hanging below the waist always looks ridiculous. Even short shorts maybe appropriate to a summer picnic."

Shorts. Well, this always brings up a lively discussion in our household. In my mother's opinion shorts are only acceptable in our house if there is a good three fingers length from the hem of the shorts to your upper thigh, any higher and they are trash.

Others might think this is a little harsh, but is it really? Teenage girls should stay modest and showing off their back area is certainly not doing so! School shorts on the other hand is pretty simple. If they are higher than your middle thighs they are not appropriate under any circumstance.

Appropriate upper wear is a topic often battled out between mother and daughter, or even mother to mother, but once again I must bring up modesty. I think must of us can agree that tank tops are unacceptable unless they have thick straps and are not advertising. Spaghetti straps are only appropriate if used with a shawl type covering or as a camisole. Most shirts are okay as long as they are not too low cut or they come down only to your middle stomach. If they do this then they are most likely not to be worn because of advertisement and moral beliefs.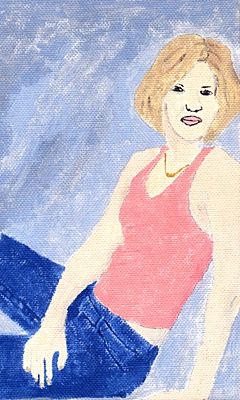 © Damon L., Purdin, MO