What's Up With YA Relationships?
May 11, 2016
I'm sure you've read them: the one true love, destined to be by the protagonist's side as they ride off into the sunset together and live the rest of their lives underneath puffy clouds and bright rainbows. But when you think about it… YA relationships are awful. It seems to me that a ton of them basically say, 'You have done a load of terrible things, but you're attractive, so soulmates!' So here's my list of things that show up way too much in YA books. Some of them shouldn't show up at all.
Love Triangle- They're in everything now: Hunger Games, Maze Runner, Mortal Instruments, Twilight, and even turning into love squares- Grisha and Ember in the Ashes. And it seems to be the same thing, over and over again. Most of the time, a girl meets an angsty, brooding boy who lives a dark life and can only see the light with the girl, and falls in love. But what's this? She's also kind-of in love with the sweet boy next door, who has loved her forever and she just now realizes her feelings for him. Here's the issue: can you have two crushes at once? I suppose so. Can two people like you at the same time? Sure. But really, it's overdone and it's very rare in real life.
And why are all love triangles the same? Why isn't it more common to have a boy with two girl love interests (like Maze Runner, I guess), or a boy protagonist, a boy, and a girl (like Half Bad), or any combination thereof? Why are the go-to boy personalities always the angst-ridden bad boy and the boy next door? Why not two bad boys, two boys next door, or neither? Why are all the love interest girls supposedly tough until they meet their soulmates? The only one I've seen remain strong is Katniss. Clary practically curled up like a kitten, Alina brooded even more than the bad boy trope, and Bella? I don't even want to go into all her problems.

Another issue: cheating. Twilight hurts itself here, too- just because your vampire boyfriend is trying to "protect" you by staying away doesn't mean it's okay to start a relationship with another guy. Just break up with him already if you want another relationship instead of pining after both of them. It's not magically okay just because the protagonist loves them equally.
Basically, why do all YA authors seem to need to include this? Do they think it's realistic?
Insta-love- Love interests see each other from afar, and think, That's my soulmate! Instantly. They go from 'Hi, how are you?' to 'Do you want to go on a date?' That's not exactly what happens. The vast majority of people don't look across the room and sigh as they see their perfect boy/girl who doesn't have a single flaw and will be with them forever. I see this so often in YA books; it disturbs me to no end. Honestly, I realize that they want to turn love into something beautiful, all hearts and flowers, but face the facts, YA: that's not how it goes. When I was reading Ember in the Ashes, the love was insta-love. There was no reason behind it except the author thinking Aww, they're so cute together and they know it! They know they're destined to be together!

The same thing happened with Twilight, and I'm still wondering how on earth people like that. I mean, clumsy and (supposedly) endearing girl meets sparkly vampire and they instantly hear the wedding bells? No. I'm sorry, YA, but reality check- that doesn't happen.
The Glorification of Terrible Relationships- Here's another Twilight issue: Edward's a stalker, plain and simple, and instead of being totally creeped out that there's a 100+ year-old guy watching her sleep, Bella seems flattered. Flattered. I almost threw the book. How does the author even think that's okay? I'd be less ticked off if Twilight was the only guilty party, but it does it twice with Jacob the werewolf who's basically a pedophile, and it happens again with books like Shatter Me and Hush, Hush.
Shatter Me turns from stalkers to 'a man tortured me and tried to kill my friend, but we have a connection'. What? What? This guy makes (several) advances towards the protagonist, tortures a baby in front of her, kills people, and shoots her boyfriend, but no, can't you see the connection? What kind of relationship is this trying to glorify? Hush, Hush takes the same concept, but instead of killing friends, the love interest almost kill the protagonist, and she's fine with that! Not to mention Mortal Instrument's relationship between Jordan and Maia- sure, he was out of control, but really? He was abusive, and a week after he's back into her life, she loves him again. And then the same series does the same thing with two of its main characters. Note to everyone: I don't care if they're possessed by a demon or just straight-up awful, if you're in this kind of relationship with anyone, get out of it. It's not your job to mend what's broken about them.
Trying to Protect- Uh, no. This is called a lie of omission. Not 'I wanted to tell you, but I just needed to protect you'. Tell me one instance where this actually helped anyone. Divergent? No. Twilight? Laughable to even think it would. Hunger Games? Still no. This isn't romantic, someone trying to protect you by lying to you. It's selfish and dangerous, considering that if you knew what was going on, you'd probably be safer. For once, I want to see someone other than Peeta insist that it stop and actually mean it. You want to protect someone, YA? Tell them what's going on so that they can properly safeguard themselves. Not only is this illogical, but people find this endearing! No, it isn't.
Premarital Sex- Perhaps I'm a bit more conservative with myself, and I'm not saying that there's anything wrong with people who do have sex pre-marriage, but with YA, it gets dangerous. Here's why- the mindset of all these protagonists: I've found my one true love, who will be with me forever without issue, and I'm only sixteen/seventeen. You think your relationship won't change when you get older? At sixteen, and this is something else that bothers me, quit assuming that you'll be together forever, love eternal. Nice subliminal preaching here: we will all find our true loves in our teen years, and we'll be together for all time.

I mean, let's look at some facts here: According to Pew Research Center, the percentage of high school relationships that stay together through college is roughly fifteen percent. Not all of your relationships are going to make it, so face it, YA authors, and quit giving people the gooey-eyed Hallmark Channel together-forever love that ends up with two characters sleeping together because 'there's no one else they'll ever be with'.
Hurting Your Love Interest- Remember Hunger Games, when Katniss manipulates Peeta again and again and again, and he just lies there like a doormat and takes it? Remember Insurgent, when Tris runs off to get herself killed, and other than one barely-an-argument, Four seems okay afterwards? Let me ask you something: if your boyfriend/girlfriend was manipulating you, wouldn't you be angry with them, despite the reason?

If you are an author and you're reading this: Stop. Stop doing this and pretending it's fine. Why on earth would any person with even a single iota of common sense or self-respect accept this? If anyone ever tried to manipulate me in a relationship, I'd dump them the second I found out. Want to know why? Because it's not love if they don't have the same respect for you that you have for yourself. Please stop pretending this is okay. It's really not.
Casual Use of Rape- Seriously, stop. Stop using this as a plot device so that your angsty love interest can save the day heroically. And if you ignore this and decide to do it anyway, then quit leaving the target wholly unaffected. Not only is this not realistic, it's offensive. I would call attention to this anyway, even if it were only in one book, but it's in several: Twilight (notice a theme?), Mortal Instruments, Defy, Ember in the Ashes, Daughter of Smoke and Bone. This isn't something you brush off.

Twilight had a scene with bikers, I believe, and Edward naturally swoops in to save the day. And Bella's fine. I don't even remember if she cried, but since it's Bella, I wouldn't be surprised. Mortal Instruments had Clary and her brother Sebastian (doubly disgusting) and other than feeling extra hateful towards him, Clary isn't really affected at all. Defy makes it the entire threat: either the protagonist passes herself off as a boy, or she joins hundreds of other girls in what they called a 'breeding house', which is not only perverted and sick, but later, she doesn't do anything to help the people inside. She spends the entire book debating between two useless love interests instead. Thanks for the priorities, YA! Ember in the Ashes implied the threat throughout the book as well, but it the one scene where the threat becomes real, the hero saves the day again and the potential victim is completely fine. Daughter of Smoke and Bone's sequel also leaves the protagonist without any effects, even though she was not only almost assaulted, but she killed a man.

There's a book I read called Defiance, and while it was awful for many reasons, this quote stood out: "...dropped her skirt to the ground and started up the ladder in a pair of skintight pants. Fury overtakes my panic and fuels me. If a guard sees her dressed like that, he won't hesitate to take what she's freely offering." Are you kidding me? Seriously, you must be joking. Take what she's freely offering? This is exactly what's wrong here: she's not offering it, you moron. Please don't write your stories like this. This is disgusting and horrible, and I have no idea what was running through the author's head when she wrote that.

This isn't something to take lightly. None of your characters should walk away from this unaffected, if you choose to include this in your writing. This isn't something to use casually so that a hero can save the potential victim. This is not something that people 'ask for'. This is real, and it has repercussions for every involved party.
Happily Ever After- And the two lovers married, and lived in a perfect world of sparkles and puppies and golden rainbows. No… not really. You know what, YA? There are problems in relationships. Everyone has arguments, and I'm not talking about the petty 'I thought you were cooking tonight' ones, I'm talking about serious arguments. Not necessarily violent or filled with harsh words (okay, if they are, there's another issue), but if there's never a single issue, then I assume that you have suddenly stumbled upon utopia, and have now left the real world.

I mean, if there's another book I have to read that basically says their relationship is flawless and perfect and they're dreamily happy together for all time, then I will internally scream.
The YA Romance Checklist- If your book is YA, and you're looking for some steamy romance that everyone seems to enjoy reading, here's the checklist.

1. There's more than one love interest. I mean, who has just one? Boring.
2. The love interest is a jerk. It's okay if they're rude, it just means they really like you.
3. If your love interest is attractive, his/her hideously dark soul doesn't matter. Seriously, who goes for personality? Losers, obviously.
4. The Soulmate Policy: if you're 15, 16, 17, whatever- if you like them a lot, then it's love and it's eternal. Soulmates forever.
5. Lust = Love. Doesn't everyone know that?
6. If you have issues, that's okay! Your love interest will fix them all for you!
7. If she or he says they love you, then everything in your life is perfect and you can devote every waking minute to them.
8. Stalking is a sign of love. Didn't you get the memo?
9. If they harass you, it actually means they love you and you should go along with it. No problems here.
10. The love interest scares you. But if they scare you in a good way, that's perfectly alright.
11. "You are my life now." Aww, that is so sweet, and not at all obsessive or creepy.
In all seriousness now, if you have any respect for your readers, don't include these.
So, to wrap this up, if you're going to write love, please make it realistic. I'm not saying to have none of these in your story, though. If your story involves abusive relationships, assault, or lies and mind games, don't shy away from it. Just please, please do not have your character be okay with it. Don't have them unrealistically affected- no one's coming out of those entirely unscathed, but with the lies, don't go Bella-level and have them cry while staring at walls for months. All I ask is that you don't glorify terrible relationships, and do your best to make any relationship credible.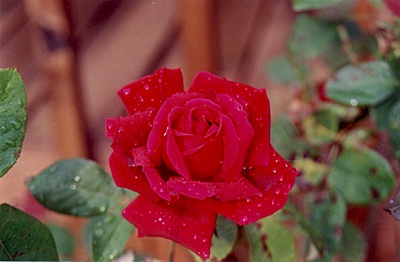 © Jami U., W. Hempstead, NY