Teenage Girls in the 21st Century
January 18, 2013
I can't remember a time where the world spun without the thought of tomorrow. Life is just expected to move on. The world should never stop turning, reality cannot be disrupted. In my opinion, reality will always just be a figure of speech. Reality used to mean the ugly truth but now it's just beautiful lies.

Humans are unaware of real life. We are all stuck in our own fantasy worlds, pretending everything's perfect when it's all falling apart. Not very many people can admit that something's wrong. These days, everyone is moving and going and never taking the time to just stop and breathe. We all just need to breathe.

I am a sixteen year old girl living in this messed up generation. I know what it feels like. I cannot relate to everyone, but I know there are people who feel the same as me. I am still learning new things about myself; I do not know who I am. I'm getting to that age where I am expected to know everything. I need to think about the rest of my life. I don't want to; I want to be a kid as long as I can. I don't want responsibility and as much as I say I do, I don't want to be on my own. I don't want to be alone, more than I already am.

Teenage girls are not kids anymore, no matter how hard they try. They are expected to act like adults but treated like children. They make mistakes, more than once. They are curious and insecure and mature all at once. How does society outcast that? As wrong. Society kills little girls. We are teenagers, we want our privacy but we still want love. We are still little girls.

We have feelings that we try to hide. We have pain that gets hard to bare. We are not perfect, we don't want to be. We pretend that we have perfect flaws. We pretend everything is okay when it isn't. We try to be the girls society wants us to be. We can't.

Society is killing us. We will never really be accepted. If you're skinny they call you anorexic. If you're big boned they call you fat. If you have acne they call you disgusting. If you have sex they call you a s***. If you're a virgin you're too good. If you do drugs you're a disgrace and a dirt bag. If you have good grades you're a nerd. If you have bad grades, you will never succeed. If you cry you are a baby. If you laugh too much you are obnoxious. Society can never be pleased. It will pull and pick at you until there is nothing left of your self esteem. They make perfect sound like an option. It isn't. Girls just want to be accepted, it shouldn't be this hard.

People look at us and think they have no morals, no values in their lives. They look at us and judge. Do they know our story, where we came from, and all the tears we've cried? No, they don't. People are quick to look a girl, form a cheap opinion and never give them a second glance. Oh you party? You are a bad influence. Oh your parents are alcoholics? You probably drove them to it. Oh your brother committed suicide? He was probably tired of you. Everything is not all our fault, but in the end, we are made to believe it is.

We just want to be happy. But there are times when we aren't. And we crack under peer pressure. We have emotions running wild inside our bodies. We can't help it. We get stressed so easily. Studies show that girls have stronger reactions to stress than boys do. There are higher levels of psychological stress seen in adolescent girls rather than boys. And boys think we have it so easy. Everyone does.

They think we are at that age where we should understand life. We should be learning how to take care of ourselves. They say, "You're getting older. You're growing up; it's time to act like it." I don't want to grow up, growing up means dying.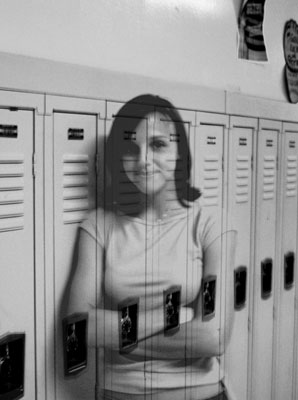 © Amy D., Troy, OH