To Choose Heaven or Life?
December 21, 2010
I am told that when you die you either go to heaven or hell. What if I choose life instead? What if I reject the gift of eternal luxury for something less indulgent but to me more meaningful?
For conversation's sake let's say we all go to heaven. When we do go there according to what all religions teach us we will experience a life of bliss and eternal peace. We will be given what our soul desires. But I don't want everything to be served to me on a golden platter. The mortal human in me wants to carve a plate out of wood with her hands and scavenge to meet her needs. She wants to experience love but also pain. She wants to experience the feeling of wonder when she accomplishes something she could never before, when she learns of things she never heard before.
She wants to help the needy, feed the poor and build her world. For her getting all she wants is better reserved for her imaginings. She needs to experience mortal love. She wants to fall and then pick herself up. She wants to close her eyes and believe in God. She wants to learn from mistakes. She wants to experience. She wants to marvel at the scabs on her body.
Heaven is a gift. Life is a journey. This girl wants to travel the voyage and wants to stop once in a while to catch her breath. Heaven is a destination and the thought that there are no answers to what comes after makes the mortal in human in me choose this world where she can kneel her head in prayer, raise her hands to collect God's blessings and walk a thousand steps of this journey.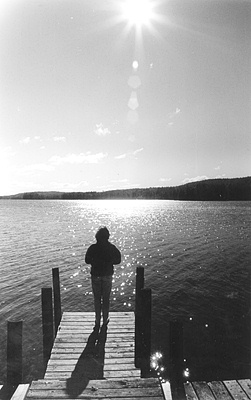 © Beth S., Marblehead, MA