My View On Atheism
April 8, 2012
Today I watched a youtube clip about The Reason Rally that took place in Washington DC. The clip I watched was on Adam Savage, someone who I kind of admired through the show "Mythbusters". Being a show about science, I should have concluded immediately that he was an atheist but when I found out I was still a tad astounded. I watched the video carefully, thinking about all the points he made. I was furious with his demeanor, his offensive attitude towards anyone who isn't atheistic or evolutionary, and his side remarks and comments that he so casually flung about. I've calmed down a little now and think I'd be able to have a reasonable conversation with him, but in those seven or so minutes, I was pretty ticked off.
First, you should know a bit about me so you will know what kind of person this is coming from. I'm a 14-year old Christian who has, for the past few months, taken an interest in exploring my faith more deeply and, in doing so, answering the tough questions and really confirming what I think. And it was very clear what I thought about Adam's message.
The first topic to address would have to be the fact that he clearly states, in different words, that it is okay for teens to have sex and that telling them not to isn't teaching them about it. I found this ludicrous and quite absurd. Think about it! What are the consequences of having sex as a teenager? First, is pregnancy. To go along with that is the possibility of taking an unborn baby's life, splitting family, ruining a young girl's life, etc. Then you have the possibility of life-threatening disease as well as life-ruining disease. These are just two consequences from a list of many.
He also talks about use of drugs and how making them illegal is stupid. Now, it's one thing to use drugs in a hospital (and maybe that's what he's referring too) but it definitely doesn't appear that way. This is one of those "facts" that I really hope he's being sarcastic about.
Adam mentions that he believes we have an "inalienable right to choose what to do with our bodies". If we really did what we desired with our bodies, our world would be a disaster! There would be more suicides, drug addicts, alcoholics, prostitutes, liars, thieves, murderers, and rapists if we lived in the world Adam is describing.
Last, but not least, he directly insults anyone of faith by explaining in detail a loving giving god whose watching out for him, but twisting it at the end to make that god none other than he himself! How arrogant do you have to be to claim you are your own god and that you can do whatever you want with your life, your body, and your mind?
To add to all of this, he just had to throw in the F bomb.
My view on atheism is that, while there are a few good atheists, most that I know are very arrogant, selfish, condescending to people of faith, and they have very few morals. According to them, you are your own god, and by their logic, love is just another part of a long line of scientific "facts" that apparently make up our world. I find it much more believable that someone greater than any of us put us together and created this beautiful world we now live in. "Facts are true whether or not you believe them." I agree, Adam Savage. You simply have the wrong facts.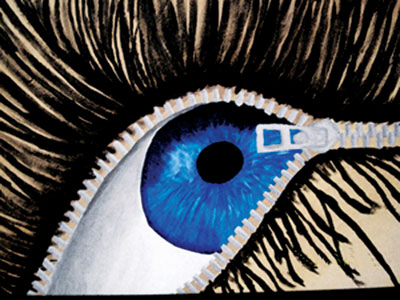 © Brad S., Lecompton, KS