Pressure
October 6, 2011
People think that golf is not a sport and if it is, it's nothing more than a game of hitting a ball with a stick. That is so not true; golf is a game of skill, endurance, and self-competition. It is a difficult sport to ace because if you can't trap your emotions in a tiny square of your mind and concentrate and not let the pressure of beating your personally best score, the pressure of your team's success weighing down on your shoulders, and the ache of your weary feet, arms, and hands, then you will not be a success.

"How was your game yesterday?" my coach asks.

I shrug. "Eh, alright, I guess."

"Well, I saw your score," he says calmly. Looking over his shoulder, he stares at me. "Sixty-eight; not your best."

I nod. "I know," I whisper.

"What's going on, Diana? You can do so much better. You're a better golfer than this."

Am I? I ask myself. "Maybe," I mutter; he doesn't hear.

"You've got to believe in yourself, Diana. You have to believe that you can shoot a fifty-seven or a fifty-six." He sighs, shaking his head. "I know you can do it, you have it you, you just have to believe."

I offer Coach a smile, a fake smile and a nod. "I understand." Which, of course, I do.

Pressure is heavier than you think; to me, it weighs more than the world. More accurately, it is my world. I am pressured to hit a perfect shot, I am pressured to get a perfect score, I am pressured to be the best player on the team because I "have the most talent". Pressure is like oxygen, I can't escape the damn thing. It's always there, always will be there. Even when I've perfected everything humanly possible, it will still be there to haunt me.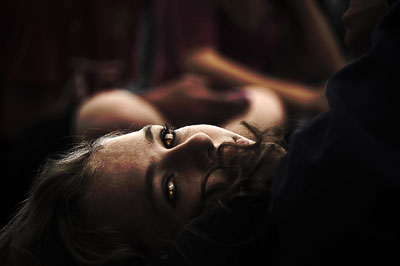 © Calvin C., Salt Lake City, UT