Silence
April 7, 2009
This eerie silence just shattered
Into more pieces than beyond belief, beyond grief.
Your words pierced through sound waves,
Betrayed all love, betrayed all life.
And now it has stopped
Almost as sudden and unpleasant as when it arrived.
Time passes eagerly…
Did it ever occur?
Was it my imagination?
Or…
Has this deadly silence consumed my thoughts and memories,
Enabling logic to be warm and comforted.
I presume I will never know
Until I, or someone else
Breaks this eerie silence.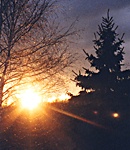 © Christy S., Germantown, NY