I love you
April 17, 2009
Taking in this twilight night.
Seeing as the new moon comes to view.
The solar eclipse has the answers.
No more wondering, the sky is breaking dawn.
The moon is my midnight sun.
But you're the only sun I want to view.
Clear eyes taking in my presence.
Tidal waves of emotions overcome me.
Debating whether you're too good to be true.
A glance at you every so often,
Just to make sure my son hasn't set,
Hasn't dimmed out leaving me in the dark.
Just the feeling of you being near,
Makes everything a little better.
Just with one touch everything seems bearable.
Your touch is secure and perfect.
When I'm with you it's like I'm on a high,
A different state of mind,
Like my own little amazing world.
Just hearing your voice sends my heart racing,
Sends butterflies in my stomach.
Your kisses send chills up and down my body.
I can't stand the thought of ever being without you.
You're a part of me forever
I love losing myself in you,
You are my atmosphere.
I love you.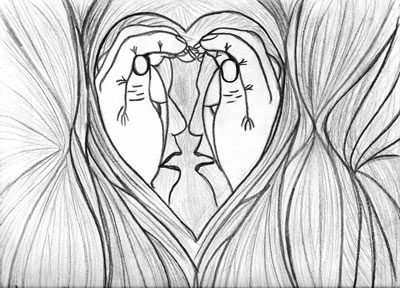 © Roumany P., St. Paul, MN