promises and a lack there of
April 26, 2009
I'd like to chase your thoughts
as they shimmer away
behind you eyelids when you blink.
But in desperation I lick the rain
from my cheeks
and press my forehead to the wall instead.

I see the knife in your back
as you walk away,
dribbling blood on the ground
and leaving a path of lava
leading away from my bare feet.

I want to fly to you...
for you to wrap your arms around me
and rest them against my feathered wings,
keeping me grounded with you.
or I'd like to scream what you can't seem to hear
in basic words, because acidic would be unfair...

but I'm nailed to the floor
and someone cut out my vocal cords awhile ago.

Suddenly, your skin brushes my jawbone
and I open my eyelashes
allowing reality to flood in.

It's instantaneous,
the way I begin to quiver under your gaze
as it punctures and caresses my body
till I'm purple and green
and melting at your touch.

"i don't want to lose you..."
you end up echoing the words in my head...

but like the coins in the bottom
of a water fountain,
weighed down by wishes,
I sink and succumb to the truth;

the trust is rightfully gone
leaving us naked and vulnerable in our wake.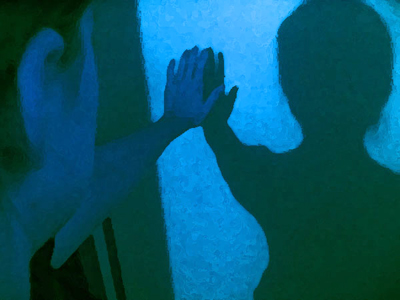 © Katie C., Libertyville, IA