I Need More Petals
July 14, 2009
I hate you,
I love you,

There aren't enough petals
on this stupid flower
I don't understand why
I'm tripping over my words,
digging for lies
when my best friend wants to know if i like you

I mean,
It's You!
Just you.
The you that's always been there...
a little too always.

And now that you're not
I want you?
That's not right.
Time for a new flower,
one with more petals.
But whatever answer i land on
Is always wrong.

I hate you,
I love you,

Why can't I settle?
Just pick one!
Now I'm worse than you ever were.
All those years you loved me,
and the second you move on
I come down crashing.
And no one's there to catch me
I need more petals.

I hate you,
I love you,

Which will it be?
Which is it meant to be?
How can I leave my fate
To an innocent
stupid petal?

I hate you!
That's it!
Ok...one more flower.

I hate you,
I love you,

I love you!
No, it can't be
But it is.
It must be...

Well, why not.
I've run out of petals.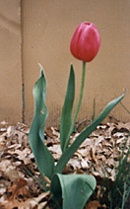 © Ashlee R., Plano, TX