Rain Just Bouncing
October 27, 2009
In her mind,
She asks him.
Flying time, racing by
Just verbalize! Just a thought, on a whim.

A hug is all you need.
From this boy you love.
From your heart, emotion bleeds
Your smile, I just can't get enough.

But before you know it, his ride is here.
You're left alone, on the side of the school, in the rain.
Anger, frustration, lurking near
You didn't ask him. Here's the pain.

No hug.
Your fault.
Shrug...
Rain's just bouncing off the asphalt.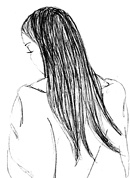 © Miranda B., Neosho, MO