The Number 6
November 23, 2009
I could leap for joy,
I could act coy.
I could obsess over it,
I could say that moment didn't exist.

All I know is that in that one moment, when your hand was in mine, it fit perfectly. It felt perfect. Perfection.

The halls dissolved,
My heart revolved.
Please, don't let your hand slip
My stomach lurched, did a flip.

The drama was aside, my pain floating away. A grin spread across my face as the world melted around me, until all that was left was your hand in mine.

An air in the halls of cologne and perfume
But it was just me and you
The lockers melted away
As you made my day.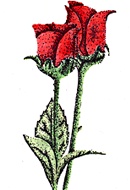 © Sarah M., Phoenix, AZ