To the Words of an Evangelical on the Haitian Earthquake
January 26, 2010
Their eyes stare, empty as the dead,
Too tired of a brutal world to care for faith
Or for whatever god would be so cruel.
What cause do the hopeless have for hope,
Or the dying for the mercy of an angel,
In a civilization of destitution?

What rises like rot in society is the converse of destitution,
Riches borne up upon the backs of the dead.
Compassion is a fiery angel
That kills as languidly as hunger; Where faith
Serves as approval for transgressions, and hope…
Hope is a brutal tyrant, merciless and cruel.

In a world of the affluent, where it is tasteless to be cruel,
A ruler's palace in a port of princes crumbles from destitution.
Soldiers come, but not for war—instead, bearing hope,
They come to care for orphans, feed the hungry, and bear away the dead.
In a shattered, collapsed land, there is no faith,
For faith wields a bloodstained scythe, and is no angel.

A thousand prayers for a merciful angel
Fall on deaf ears, and so he is cruel;
To all the dreamers who grasp vainly at their faith,
Too blind or pure to see their belief's destitution:
What forgiving god would wish a land of sinners dead,
And rip from them their one last shard of hope?

In the midst of devastation, there is no foe worse than hope.
Only the ignorant would bask before the bloody wings of a merciless angel
When callous men say that their own gods would wish them dead.
Tearing children from kind homes, kind arms, is compassionately cruel.
People ask what they would have but destitution;
Are we a race incapable of veritable faith?

What faithfulness lets people still have faith
In heartless gods that give no hope?
How can we offer aid with heads held high, when we first gave rise to destitution?
The devil cannot match the works of such a vicious angel;
If your kind god can be so cruel,
Then we might all be left for dead.

Why do you have faith in such an angel,
Or hope for kindness from a deity so cruel?
His seraphs reap souls bound in destitution, but in disdain they leave for us the dead.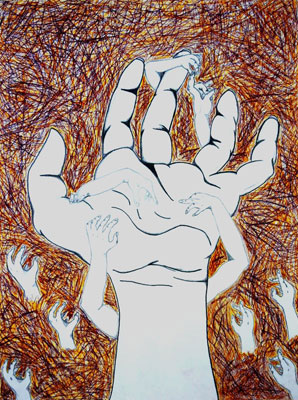 © Ariana R., New Orleans, LA