The Train
January 10, 2011
There's a boy on the train,
He ran away from home,
He took his father's pain;
He stole his mother's tone.
His sister saw him leave.
She waved at his shadow.
He left her there to grieve
Out her open window.

There's a mother on the train.
She doesn't know the father.
Her baby has no name,
At the moment it's just a bother.
A reminder of her shame,
The bulge is in her way.
With whomever she has lain,
She shall never, ever say.

There's a girl on the train.
Beneath her sleeves are marks.
Marks of her lover's good aim,
And two she gave herself in the dark.
Her perfect mask of cosmetics
Bruises her even more
Her honey's violent antics,
His shouts of "b****" and "w****."

There's a musician on the train.
He strums for glances and cash.
He sings of love and rain,
In his youth he was brash.
He dreamed of his name in lights.
But reality is unjust,
Our lives are full of fights,
Of injustice and mistrust.

There's a man on the train.
he smokes a cigarette.
To his wife, the smoke is a pain;
To his lungs, a deadly threat.
The cells inside his chest
Have mutated beyond control.
The heart within his breast
Will soon pay the toll.

There are stories on the train.
Each story has its cast,
Its tragedy and fame,
Its future and its past.
There are people on the train,
You can learn each person's tale,
We're all connected, one big chain.
Without this chain, we fail.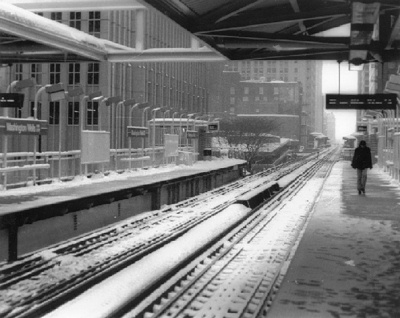 © Karen P., Amherst, NY