The Earthquake That Brought Man And Horse Closer
August 26, 2012
It was a calm spring day. Jayson was riding his horse, Kentucky Phantom along the shore of Lake Byllesby. All of a sudden, Kentucky Phantom stopped walking and started lifting his hooves up and down.

"What's wrong, boy?" Jayson asked the horse. The ground started shaking and the horse and his rider were getting confused.

"What's happening?" Jayson yelled, turning his horse around and galloping back to the hose.

"Jayson, get inside!"

"What's going on, Jackson?"

"There's an earthquake! C'mon!"

"I have to untack Kentucky Phantom first."

"There's no time."

"But…" Jackson ran over to Jayson, pulled him off his horse, and drug him in the house.

When they got inside Jayson could hear the horses whining and kicking their stalls.

"I have to be with the horses, they're scared." Jayson told his brother.

"No, you can't, it's too dangerous."

They saw the barn collapse and Jayson broke down in tears. It was the first time he felt like the horses were closer to him then his family. He got up and walked to the door.

"Jayson, what do you think you're doin'?" his brother asked.

"I wanna be with my horses!" Jayson yelled.

"No, not yet. Come back here and sit down." Jayson walked back to his brother and sat down and asked, "How's dad gonna get home from work?"

"I don't think he'll be coming home tonight, the roads are probably busted," Jackson said, "Okay, I think it's over you can go check on your horses."

Jayson got up and went to the barn. He felt another shake and fell. He got up and went back to the house.

" I don't think it's over, Jackson. I felt the ground shake."

"It's over, you're just feeling the secondary wave."

"Oh." Jayson went back outside and back to the ruined barn. As he was moving the wood he thought, if this killed any of the horses I'm gonna be really mad. To his surprise, all the horses were alive. He looked down and saw the tack that was on Kentucky Phantom on the ground.

"Kentucky Phantom, are you in here?" he called into the darkness. He saw the black, silver body of his beloved horse appear out of it. He ran over to him and hugged him.

" I'm so glad you're alive, I don't how I could stay in this place if you died. Hey how'd you get your tack off anyway?" The horse's head lifted off Jayson's shoulder and his eyes stared at him, and gave him an almost smile.

Jayson laughed and wrapped his arms around the stallion's neck and talked to him for a long time.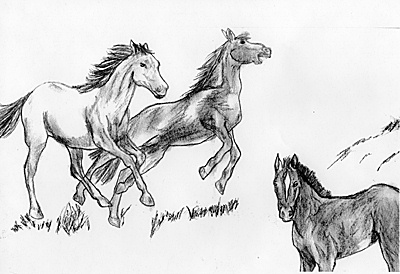 © Ali A., Eau Claire, WI