Sestina
August 24, 2012
She can only love what she can own
And that to her is the month of May
When the flowers bloom and the grass and sky are one
She wondered if sunflowers really turned with the sun
Her smile was bright and the she would breathe the warm air
In and out and the pollen tickled her nose.

She longs for an interesting boy who knows
Why life is something that no one can own.
And hopefully someday to listen to the air
Weaving its way through the hills. Forever they may
Be, but to that sweet, thin light of the sun
They will always lose. It has won.

She and the boy will find each other at one
On a Sunday afternoon. But no one knows
Why they met. It might just be fate or the sun.
They will move into a house that they own
On a cloud in her dreams. They will wed in the month of May
And she will learn that to a throne he is an heir.

They will dine on chocolate, light as air
Once all of the bets have been won.
And together in the bed the lay, they may
Do things that no one who knows
Will tell. They will ride on the horses they own,
And soon will be born a son.

And the boy, now a man, will love this son
Enough to make him the new heir.
And all of the things he will own
Except for maybe just one.
He will have a nice face and a nose
That attracts all the girls; that it may.

The girl is alone in the field. It is only a day in May
After all. And shining down brightly on her is the sun
That is sure to die one day, but nobody knows
When or how or who or what. The air
Is hot and her hair is damp. The heat has won
And she heads back home on her own.

Something about May, the girl has never known air
So light and bright. And the sun is so nice at one
She knows one thing only: She will never own the day.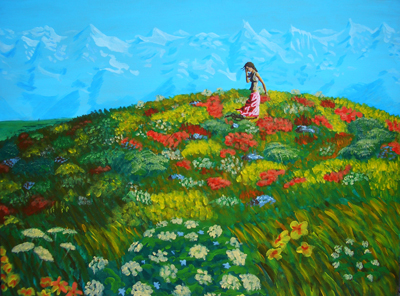 © Allison F., Langhorne, PA