Subconscious
December 13, 2012
I see a little scribble mouse,
Feasting on a scribble cheese,
Inside a little scribble house,
Where I can scribble, as I please.

Although the lines in disarray,
Bring anything but peace,
The words that each one of them can say,
Will never ever cease.
The lines converge and morph again,
Into the lion's maw,
A tiny life destroyed so quick,
Through a simple draw.

No use for they sighed and gambled,
Far too happily on that light,
Sudden a shape in shambles,
Broken by approaching night.
Undulating cords of red,
Intertwine with hues of blue,
Mesh of rainbows overhead,
While the sky breaks through.

I saw a shape inside the mire,
Of that prison where I stay,
One unfulfilled desire,
Just to speak and fly away.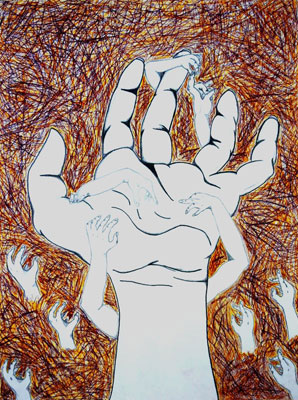 © Ariana R., New Orleans, LA