Immortalized Beauty
September 22, 2013
She stands alone, but also among all.
Her figure is sleek, graceful, and tall.
She's immortalized in stone to catch her beauty,
But continues her enchantment as it is her duty.

She is always smiling as she is set in stone.
Her manner is a light and silly tone.
Her arms lean back; she is ready to dance;
Wherever you place her is her expanse.

However, she knows when you try to see her;
And she laughs prettily at your movements so queer.
She is well- aware of how much you try,
But she never reveals herself to the human eye.

I think she believes we are not ready for her presence.
A figure which releases a matchless essence
We are not worthy to experience this creature;
So she has taken stone as her feature.

She dances quietly when you're not around;
Light feet on stone make not a sound.
Then she'll leap off her perch and continue her ways,
Fluttering, leaping, and spinning with sashays.

At the end, she'll return to her previous position;
Since her performance has come to fruition.
And there you'll be, taking a glance,
But she will never let you get the chance.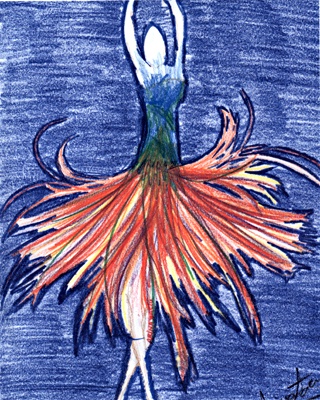 © Arina Z., Euclid, OH