So Close
October 7, 2013
The simplicity of youth is gradually giving way to the confusion of adolescence. As I plunge deeper into this toxic place, I'm given choices I can't choose from, and asked questions I have no answers to. Answers that seem impossible to find, and choices that seem impossible to make.
There's an entire world beyond the metaphorical playground I've been playing on, one that I've never experienced before. It's a fairly melancholy place, really. I've grown so much, yet I seem to shrink into the surroundings; I'm bigger, yet smaller than ever.
The pressure is constant. A sense of condensed panic resides deep within my head. The more I fight to control it, the more it pushes against me. There are times I am at a calm, but eventually the increasing paranoia of failure pulls me back into my silent hysteria.
I'm cold, but not physically. That would be bearable. It's on the inside that I am frozen. My whole body seems to shake, yet I can't move at all. I am thin ice. So close to cracking.
I try so hard. It's easy to give in, to go with the flow. But people encourage me to fight the current. To swim against the current. They have no idea how hard I'm trying to stay afloat, trying not to get washed away. I'm struggling to keep my head above water. Trying not to drown.

I'm so close to giving in. Letting go. Taking the easy way out. But I can't. I won't. I might.
I'm so close.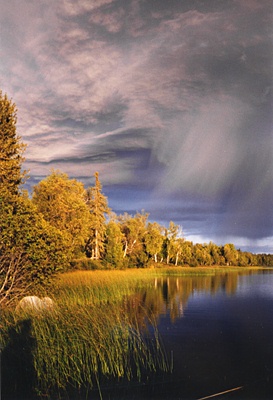 © Dustin B., Nikiski, AK