Bite_______
October 30, 2013
A boy stood at the shore,
a string bound about his fingers,
waiting for the tug, the bite.
It was a day to bite.
The sun nibbled at the skin
of the boy's shoulders, leaving them raw
The sun blazed and tore at
the boy's shaky shadow's edges.
The sea snarled and hissed,
chewing at the wayward sand
thrashing itself against the sky.
The boy waited, curling his toes
in blistering sand, patiently enduring.
He was too young to know
that you can't catch a fish
with a wish and a piece of long string.
Instinct told him it was a day--
It was a day to bite.
The sun and the sea
(and his baby sister
somewhere in the cool
with her icecream cone)
were all biting so
why wouldn't the fish bite?
Then the wind began
to stir the dry heat,
slowly swelling
and tossing the clouds
Into its gaping
ravenous mouth.
It was a day to bite.
The boy took his string
and turned it into a kite
for the clouds to chase
and the wind to swallow.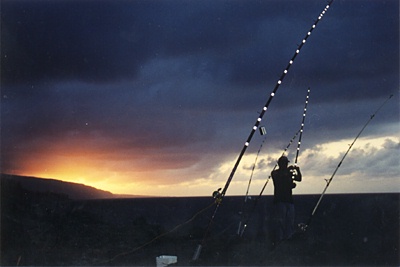 © Jeffrey J., Honokaa, HI