Fighting the Blank Paper
October 20, 2008
It sits like a dead thing before me
Limp, Blank, Clean slate
It challenges me to create
Graphite scrapes against it
A line is formed
Then erased

Fingers tap impatiently
Inspiration is late, as usual
Pencil gripped in my hand like a life line
A song no one but me hears floats by
Invisible people whisper and wonder
"Will she? Will she not?"
"Will this 'genius' strike her literary sword again?"

I stop moving
Drop my pencil
Sit still, like a statue, like a corpse
I close my eyes
The music gets louder
Colors are brighter
The lowly pencil, The Writer
My tool of trade

So, I now challenge you, O Blank Paper,
Defend yourself.
I have beaten away writer's block
And what people say
Begone boredom!
Inspiration has arrived!

With my sword
I peel away your disguise
Where blank paper once was
A poem now catches my eye
Fancy that.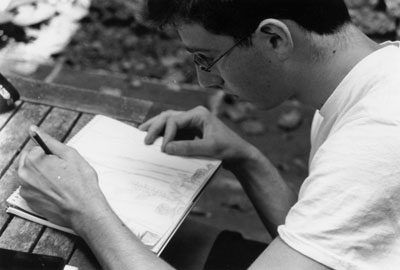 © Kira L., Bethesda, MD