At Arms Length
November 30, 2008
Well it started off like most stories do
with a 'once upon a time',
it was just me and you
when i caught you staring at me from across the room,
I knew what i had to do...
you blushed and turned away
but i knew just the words to say.

Thinking back, it must have sounded cliche
but at the time it didn't matter anyway.
so i came over just to say "hey"
and right before i walked away,
"oh and by the way, you take my breath away."

I guess it was music to your ears
because we were together for almost two years...

Skimming through the pages of our story; you"ll see,
that you really meant a lot to me.
you knew me and i knew you
not just the basics, but every little detail too.

What made you laugh, what made you cry
how you like your hand held and at exactly what time,
are all the little things still buried in my mind;
because nothing about you has been erased by time.

Read a little deeper now and there's more you'll come to see.
i always knew your beauty was more than skin deep.
Now I think back to all those memories,
of perfect things- shared between you and me.
Do you still remember those late nights and crazy fights,
What about the long walks and late night talks?

Or how about my favorite memory yet, that time at the beach.
The summer when everything was perfect between you and me.
The distance we walked along the shore was nothing,
at least compared to how far we'd come.
The water pulled at our feet, daring us to come and seek
whatever might have laid underneath,
So we took a chance and jumped in,
without any moment of hesitation.
The current pulled us this way and that.
Eventually we grew tired, so on the beach we sat.
It seemed that as the waves crashed on the shore,
i grew to love you more and more.
So much happened under that summer sun,
and it seemed that finally, we had won.

But as you know, all summers have to come to an end,
and it's seems like that's always when the trials begin.
With autumn, came broken promises,
and as our everyday lives picked up again,
the idea of "time" became a slowly dying trend.

I'd love to blame the distance for what happened next,
but that would be a lie, so maybe it was all the texts.
Calling became a distant memory,
and the times to hear your voice were few and far between.

It wasn't your fault,
I know how life can get in the way,
things happen and feelings change,
and sometimes people grow apart, day by day.

So now I'm giving you your space,
and I'm really trying not to think about it too much,
but some days it's difficult,
seeing as you were so much more than just a crush.

They say time heals everything,
and I'm starting to think-
that maybe, just maybe, they're right...

Just know that I still think of you,
every night as I fall asleep,
and I would kill to be living in my dreams,
when the greatest distance between us,
was only ever arms length.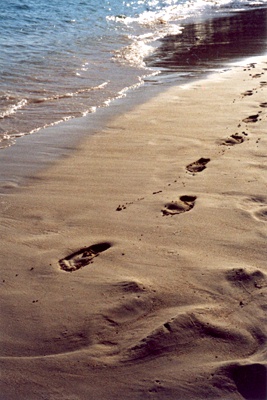 © Ashley B., Potomac, MD