My Heart
January 10, 2009
My heart

My heart is a dungeon,
With an entrance, but no exit,
Every memory quietly tucked away,
Waiting to corrupt my conscious.

The feelings forever molded,
The scars embellished in my soul,
Stitched over and over with a hope,
Of a happiness I'll never have.

This hope, both a victory and a loss,
So easily manipulated, so easily crushed,
A vulnerable horizon of a broken spirit,
Hanging on a loose string of life.

A never-ending battle,
Between my hate and love,
Constantly ripping my heart open,
And sealing it closed.

Cold, dark, and tightly enclosed,
Beating slower with every blow,
Slowly losing all will to breathe,
All desire to keep alive the strain.

An empty haven where my hatred dwells,
First for you and then for myself.
A world of black, salty tears,
Of worthless longing for ignorance of it all.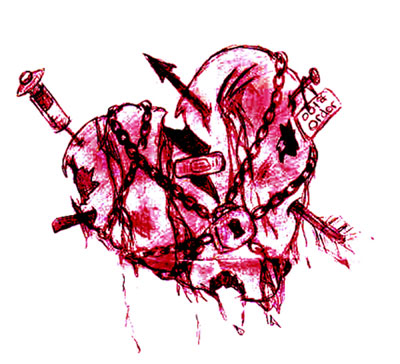 © Asia B., Hudson, MA