Letter to the Classroom from the Handicap Bathroom Stall
August 31, 2015
yesterday i gripped those metal bars near the toilet,
dry-heaved into the transparent water, wiped my
tears upon the same tiled floor that dewy sneaker bottoms
have probably also wiped themselves upon. you think
i do it because i miss you and your infuriating blackboards
but i do it because i can't stand your screeching
chalk or your unforgiving plastic chairs and i'd rather hide
in this bathroom with its zero-point-zero-one ply
toilet paper and scratchy graffiti etched into the stall
wall by some filthy pen. you know you make me wonder
why this significant space feels so cramped
even though it makes up two-thirds of the total usable
area. but even though i would rather drink the rest
of this suspicious toilet water than return to you i want
you to realize that i will confine myself inside this
structure and hinder the needs of those vibrant souls
in wheelchairs because although i may not have
useless legs or a useless spine i am handicapped
too. and like a hunted turtle i will hide in the shell
of this porcelain toilet until the stern fisherman yanks me
out of the stall and stews me into your alphabet soup.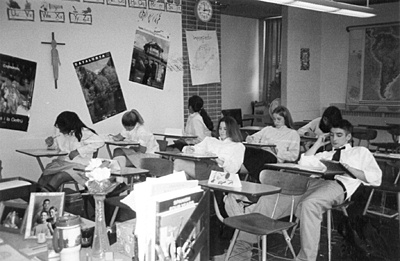 © Fox V., Whitesboro, NY