Together We Rise, Together We Fall
October 19, 2018
Something must be done,
So that justice can be won.
No more insensitive remarks;
Or fire starting sparks,
Of the hate from so many,
That wears us down like an old penny.
It seems that so little, so few,
Can actually see through,
The transparent glass,
That seemingly separate our class.
"All for one and one for all,"
A neglected rule that sadly is our downfall.
We must band together,
It doesn't matter whether,
You know them or not,
Save one another, cover your blind spot;
We're all brothers and sisters,
Not your personal battle enlisters.
Work together, never against,
It's the reason why we're always so tensed.
No one to brace our fall,
Someone who only makes us feel small.
No one to help when we bleed,
Be the selfless hero we all need.
I wonder why some feel the need to
Belittle and overdo;
Stray from Racism, sexism, and anti-semitism,
And instead bring love, hope, and activism.
If you practice what you preach,
Maybe hatred can be just a figure of speech.
Keep your friends close and enemies closer, they say,
But that's deceit in a simpler way.
Don't tear another down,
Never let them drown.
No, we must build up,
Praise and makeup.
Don't complain or whine;
Leave indifference on the line.
If total equality is what you seek,
You must be ready to speak.
Speak out against the hate,
But only some await.
An open state of mind,
Sadly, so many have become disinclined.
I question as to why,
The tree of kindness is running dry.
Through thick and thin,
That's how it should have always been.
If effort is what you require,
Why do we all wait until it becomes dire?
Few of us care about the wellbeing of our peers,
Maybe in fear of the comments and jeers.
That is the precise reason why we need this!
It's a shame some would rather stay and reminisce.
An endless, brainless, aimless, way
To be stuck in the so-called "good old day"
The future is now, the time is here,
Where everyone is new, and all can cheer.
Erase the bad times, but do leave time to renew,
Because in the end, we're all just humans too.
There are changes to be made,
No reason to be afraid.
Love thy neighbor and it will be okay,
Not just tomorrow, until your very last day.
Something must be done,
So that justice can be won.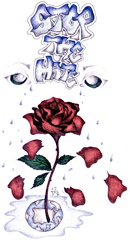 © Diana G., Phoenix, AZ