Angel
April 25, 2012
There's an angel in my bedroom.
I swear, it's true.
There's an angel in my bedroom.
I promise you.

This angel isn't normal,
His wings are not white.
Instead, you see black feathers drift down,
As he's soaring in flight.

His wings are pitch,
His eyes are ice.
His heart is stone,
His hatred a vice.

He comes with the night,
And his presence is known.
He sits by my window,
Using my desk as his throne.

His voice,
I thought it'd be strong.
Instead, a whisper,
More like a soft song.

He tells me stories of wonder,
Life I have yet to live.
But in return,
I have nothing to give.

He smiles when I say this,
Then pats my head.
"I need nothing,
But tell me of what you've read?"

I grin and I tell him,
Of what I have seen.
All the worlds many colors,
Yellows, purples, and greens.

He flies away,
With pitch black wings.
All I'm left with,
Are wonderful dreams.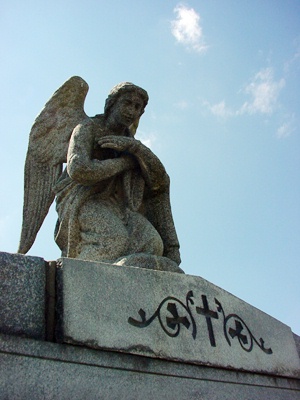 © Greg K., New Lenox, IL