Does The Sky?
July 4, 2013
I look at the Sky,
and it looks back at me.
Sometimes I do wonder
at what all it sees.

If it's brilliant blue,
is it happy that day?
Is it smiling at us
with the Sun's warming rays?

If it is raining hard,
is it sad or upset?
Is the Sun's fleeting absence
in fear or regret?

Are the clouds more than clouds?
Are they thoughts that it thinks?
Dreams of its or of ours
that float along and then sinks.

When it's dark, does it sleep?
Has it turned out the lights?
Is the Moon's bright white glow
the Sky's round night light?

Does the sky really feel?
Is it living and real?
Does it think and react
with a human like zeal?

Does it talk to the Earth?
Is the wind its faint call?
Does it act different ways?
Summer, spring, winter, fall?

Does the Sky think of us,
of our ways and are things?
Does what most would call dead
have a natural instinct?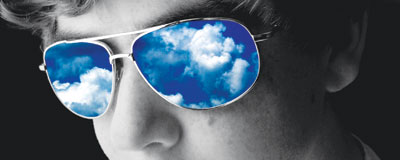 © Joseph B., Mesquite, TX