Lover's Leap
August 20, 2013
I loved the one called Icarus,
The boy who always longed to roam
The lovely son of Daedalus
He promised me he'd always come home.

I watched each day his prison tower,
For a sight of my love
I watched and waited every hour
For a sign from above.

Sometimes he'd send me roses,
Sometimes letters inscribed with words of love
But always he would send his longing
On the wings of his father's mechanical dove.

He told me that his father was working,
Working both day and night,
To build them wings to escape on,
And this news brought me much delight.

After days of long expectation,
When I was sure that he was dead,
And I was ready to join my lover,
He jumped from the tower instead.

My heart thrilled with expectation
As I watched my lover leap
For with the wings on his back
He was sure his life to keep.

But he never flew before he fell,
But only plummeted from the sky,
A bird of pasty, waxy wings,
He could not soar, he could not fly.

Temptation was a golden fruit,
Hanging ripened from the sky.
If only he could reach the heavens
And see world from on high.

If only he could reach the heights,
Then he knew he'd never fall
For logic was a twisted creature
When you heard the sky's call.

But he didn't climb, he didn't rise.
Instead he stumbled through the air,
Beating his wings and losing feathers,
Defeated by the sun's lashing glares.

He forgot his lover waiting,
Watching from the narrow ground.
He forgot the love in his heart,
And only knew his own fear's sound.

And so I mourned my lover Icarus,
As he fell from the sky,
And as he landed close beside me,
I watched his last breath as he died.

I will never love another.
Because my heart will always fly
With the one I called my lover
Until the day that I die.

But sometimes as I watch the sunset,
And I see the clouds bleed red,
I cannot help but hate the one,
That tempted my lover to his death.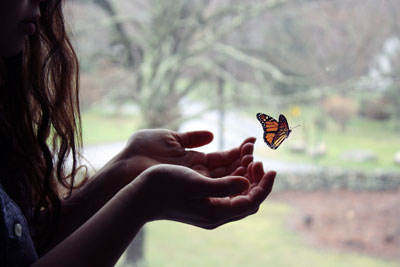 © Sandy H., Woodbridge, CT