Don't leave me homeless
June 6, 2014
I stood there
Before leaving.
The words stayed
on my lips.
Like balloons tied
Delicately to paperclips.

I was headed back 'home'
Although that feeling,
The feeling of belonging
Of truly being home,
Had left when I left you.

They say:

"Home is where the heart is"
And to this,
these words must be true.

Because the only time
I ever feel at home
Is when I'm with you.

You are
The exact point
The very location
Latitude
Longitude
The very points on the map
That intersect
Where my heart is.

So I stood there
Before leaving
Scared to say what I felt.

I know you don't
want anything
too serious
too distracting
too real

BUT

As I stood there
Looking back at you
I realized something:
Something I had been feeling
for a long time now,
I care about you.

Not the way
that a nurse cares for a patient
or that a brother cares for a sister
or that best friends care about one another.

I truly care about you
In the deepest
slightly serious
BPM rate increasing
sort of way.

It isn't complicated.
It isn't distracting.
But it is real.
It's the realest thing
That I've felt in a long time,
If not ever.

I want to mean something to you.
I want to be something of sustenance to you.
Something you need,
But not something dire
Something you desire,
But something you can be okay apart of.

I want to love you
In the simplest of ways.
Like the way that the sun
Loves the moon.
Shining just bright enough
to let the other
Light the night sky.

So as I stood there
The words I had been longing to say
"I love you"
stayed on my lips.

Because
If they had jumped from them
And found their way soaring through the air
towards you
It may have been too much.
And you might have said "goodbye"
or, "you should get home."

And it would have been the last time
That I left.

I would become homeless.

And the possibility for love
Would be no more.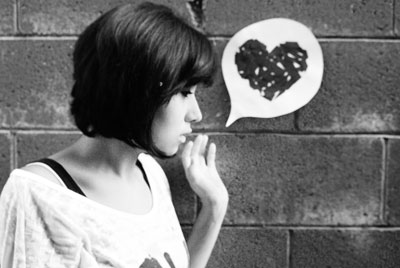 © Michelle B., West Covina, CA