Old Friends, New Tears
September 15, 2018
My mind begins to wander
how much my friends have changed.
Will they be thick or thin? Tall or short?
Will the have dyed their hair?
I won't know
till I walk through these old, red doors.
I see bright faces. Full of joy.
All of the noise around us
drowns out
and I can see the glitter in their eyes.
My heart beats faster,
and faster,
and faster.
I've zoned out looking into the faces of old,
forgotten, memories.
I can see the new stories in their eyes.
They want to tell me. But I can't listen.
I don't want to listen.
They have moved on, to better things.
I was gone, and they forgot about me.

I went left
as they went right.
I can feel the sorrow clawing its way out of me.
The glitter in their eyes falls away.
Warm, soft arms embrace me.
I can feel the heat from their bones
radiate through my flesh.
What happened to me?
How did I lose myself
and not even realize
I was gone?
How could these people bring these feeling out of me
without a sound coming from their lips?
I've lost the war.
The world has won.
It took me years ago
when I turned left and these people went right.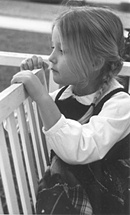 © Amy B., Alabaster, AL