Father of Mine
November 23, 2018
It is the big day, a memory of joy,
I walk to my Love, a smile upon my face,
White and black figures line my path,
Your rough hand held in mine, a warm comfort,

Face you with a grin, you walk me down the aisle,
A loving being to raise and hold me,
Dear father of mine, give me away,
From your hand to my Love's a new chapter unfolds,

The wrinkled skin of your hand smiling up at me,
Short nails dirty from years of hard work,
It is rough but loving, a touch from a parent,
Holding my own, firm and soft on mine,

You look down at me, always the giant,
An expression of pride and delight worn on your face,
You are my past, my family, my heart,
My future is yours to observe and supervise,

Old memories of our precious little pond,
A child being tossed into the water, laughing,
Their first steps into your trusting arms,
The freedom of being pushed on a swingset

A hearty laugh to share my amusement,
Warm dinners in a cosy home, surrounded by family,
You raised us all high upon love and devotion,
For you love me and I love you,
You taught us good, and kindness, and peace,
You told us stories to strike passion in our hearts,
Going on adventures into the unknown,
A pastime of ours that we treasure,
You are my family, my blood, myself,
We are connected, you and I,
A bond of only a father and his child,
The trust of one and another,
You held me on days of grief,
You calmed me in stormy times,
A stone that I can cling to,
A mountain of unmoving rock,
So stubborn you were, as a mule,
A wise man to say, a guiding hand,
You kept us safe, and warm,
Food in our bellies and laughs on our faces,
Our mother loves you forever and ever,
You hold her heart so dear,
The gentle lingering touch of lovers,
The calm in the eye of the hurricane,
My brother looks up to you, oh father of mine,
You seem to have taught him well,
An honourable person he will be,
Because you were the same,
And who would my sister be? If not for you?
You pulled her from the darkness,
Showed her right from wrong,
You turned her to a blessing, showed us her true heart,
You are everything to us, and know that,
We will always love you, just as we know,
You love us,
Oh, my amazing father,

And so today, we walk side by side,
Hand in hand,
Up the aisle to our destination,
In front of all those hopeful eyes,

The eyes of all our loved ones,
My Love's and my own,
Friends and family of all ages,
To watch on this day of revelry and blessings,

They, of course, watch me, and my To Be,
Our shining faces, full of love,
And oh Father, how I wish they could see,
The way you so rightly give me away,

But they cannot, though it pains me so,
You seem only for my eyes,
An angel from above you fly to give me wings,
And set me free to my Love, oh Father of Mine.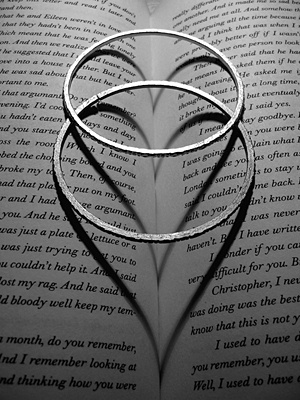 © Julia K., Old Tappan, NJ