I actually do get mad
January 23, 2019
Today, I yelled. I was a tropical, screeching, hair conditioner bird AND one of those trucks that makes wood chips.
And I looked at him. Right in the obsidian of his pupils. I wanted to wring out every last drop of blue from his eyes. Or pull the sunshine of his hair like grass from the mineralled, earthy soil of scalp.
And anger frolicked up from my caged thoughts out frothing from my lips. Insults laid like whipped cream on warm pie. Lounging only to melt into subconscious.
I wanted to ruin him.
I wanted to shriek until he would scuttle away but end up tumbling over half apologies run taut like shoelaces.
I wanted him to be wormed and riddled to an apple core by guilt. I wanted to cease all cold cut calculations in his head, to put everything on a shut down.
I wanted for every bone in his fingers to deliquesce so that when he would try to play saxophone they would trip and trip and trip. And then he would attempt to cast the blame upon me but his finger would fall limp, only to point at his own very feet.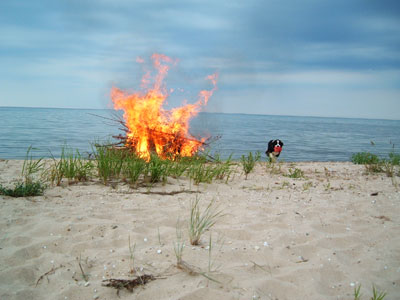 © Hilary L., Rogers City, MI