The Scientific Method
January 25, 2019
Every action, angle and anecdote is pummelled, squashed onto my mental list.
They're fraudulent. pulpy and bubbling, each gasping for a shade of validity that no longer lingers in the air.
That twitch of the eye? For sure a wink
That brush of the shoulder last Wednesday was ultimately mystifying.
Steaming insults churn into "but he knows me so well!"
The fact that he said "no problem" instead of "sure" definitely had to mean something
And we splashily exaggerate our abilities. We adorn ourselves with tailored, glittering lies, wrung around our necks, across our lips and behind our eyes.
He becomes a reason to walk a little faster, wake up a little earlier, smell a little better.
And we glob the evidence together, presenting our feeble, soggy and dripping claim:
He's surely, most definitely, absolutely, totally in love with us.
And our logic states that since he finds us attractive, delighting, tempting, smart, talented, and beautiful, that only now we're finally permitted to feel worthy again.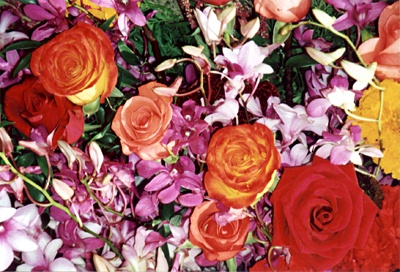 © Stacey L., New City, NY