Right Now
May 9, 2019
Homework and due dates
Just friends and best friends
Pressure and gossip
Cheaters and winners
Test scores and corrections
Puberty and our bodies
Fake and real smiles
Fitting in and sticking out
What's in and what's out
Why is there so much
Pressure resting on our shoulders?
Why is there so much
Expected of us?
Why do we struggle
When we could just slip under?
Why even try
If all that's waiting is more?
Why do they say,
"It'll be okay."
Because it isn't,
And never will be. . .
We're tired of the homework,
The bullies and liars.
Peer pressure is straining us
As much as our grades.
Even though they say,
"I was in your grade too,"
They don't really understand
Homework and due dates
Just friends and best friends
Pressure and gossip
Cheaters and winners
Test scores and corrections
Puberty and our bodies
Fake and real smiles
Fitting in and sticking out
What's in and what's out
Maybe someday we can
Grow out of this pain
Maybe someday we can
Learn to be strong
But right now,
Right now, it hurts
To be alive
Right now, it stings
When they insult us
Right now, it's hard
To fake our laughs
But we are teenagers
And right now we'll try
Because right now, we're teenagers
And we're staying alive.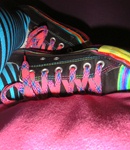 © Melanie R., Milpitas, CA