Did I Go to Heaven?
September 4, 2019
They want to know if I went to Heaven,
If the moment my heart stopped,
I was blinded by the White Light
And the love of a Higher Power.
They want to know if I saw Him.
I recognize now that it is more for their own sense of comfort,
But the first time they asked,
My eyes met theirs with a scorn fierier than the seven circles,
None of which I saw.
They want to know if there is something out there waiting to embrace them
In warm and loving arms.
I cannot say.
I saw nothing,
Just blackness
Followed by the soft browns of the coma tunnel,
Bubbles sweeping gently around,
Shapes resembling sea stars,
The dwellings of an unconscious mind.
Sometimes I miss that tunnel,
Neither hot nor cold,
Jubilant or depressed,
Just floating,
Swimming almost in the vast entrapments of my brain,
Breathing in the liquid,
No emotions.
People might ask if this is my own personal Heaven,
To which I would answer 'no.'
It was missing an achingly familiar face,
That of a friend,
Gone from this world too soon,
Much in the way I had attempted to exit mine.
They want to know if flat lines mean white gates and Heavenly choirs,
And this I do not know.
I find no glory in my own death,
Albeit only for a minute or two.
I find no great discovery of the afterlife,
Only the aftermath,
The physical pain,
The long and drawn out healing,
The fear of friends and family.
No,
I did not go to Heaven,
If there is such a thing,
For I know,
Sydney will be waiting for me.
In my coma tunnel, I was left all alone.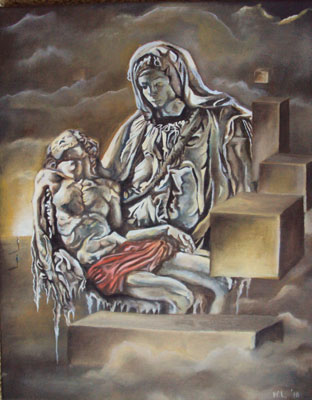 © Winston L., Dallas, TX