Emotions
April 8, 2021
I've always wondered why I'm such a masochist.
Maybe because I walk in a body that is no longer mine.
I don't feel attached to anyone or anything.
My emotions crowd my ribcage like a circus,
Full of lights and angry crowds.
Scared animals and fearful performers.
I've opened my skin to let people in red coats flee the scene.
I turn warm water on and step into it,
As it covers my body like a hug.
Warm to hot, my skin turns pink;
Pink looks good on me.
Did they all know it would hurt me this way?
This intoxicating, beautiful misery is my only hope
And with if the yelling, ringing in my ears like a song,
Or the handprints left on my body when what I had done wasn't perfect.
Perhaps it could be the reflection of the water Love sits on.
Plated in gold, as her reflection portrays pain.
Real love is pain, right?
I do wish I could sit upon a coffin,
My bones facing the sun.
The smell of rot
Had never been this much of an inviting, favorable fragrence.
Suspend my corpse,
Cut me from ear to ear
In a new smile below my jawline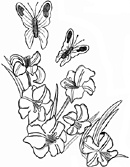 © Leah-Marie D., Peoria, AZ