Counting Miracles
July 30, 2021
She ran from the buttercream yellow house, the
aurora of eclipsed sunlight scintillating its rough edges
like a halo. Her mother watched from the window,
the crusted veneer a minor sensation, juxtaposed
with her weakened heart. Thump. Thump-thump.

She brushed past the borderline of foliage, into the forest
where the trees' whispered, rustled maracas outdid her own
hurricane of thoughts, tears, and breath. Her stomach
endured the deepest ache. Another meal skipped.
One less heartbeat per minute. Thump-thump.

Her tears mirrored the woman inside. But she would
not know. Too far in the words, encompassed by swaying
branches, crunching leaves. She found a rock on the edge of
the creek and collapsed, the water caressing her toes. She could
not even recognize the comfort, something too long forgotten. Thump.

A shadow flickered on the sunbeam that gleamed before her.
She raised her head and saw it: a butterfly. An angel
could not have illustrated more beauty. Sunshine accentuated
the velvet patterns on its wings. She held out her hand, and it landed, gentle.
If she believed in miracles, one occurred right there, in her palm.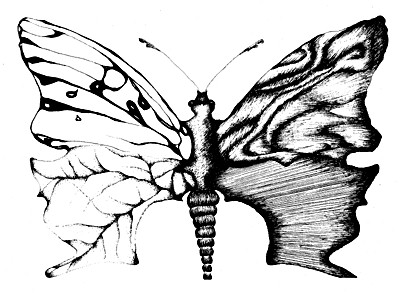 © Cara L., Cheny, WA