Self Portrait
November 13, 2021
My parents love to document my life with pictures,
for they are snapshots of unforgettable memories.
From my first day on this Earth to my first day in middle school,
I'm sure they have stashed photos of me in their scrapbooks and their hearts.
If I were to have a self-portrait, it would have to include them, too,
Because they make me who I am
And who I will be.

There I would be,
Standing with my toes blending into the coffee-colored sand,
My face raised to the sky, soaking in the beautiful colors of sunset.
My sister would be beside me,
With her ludicrous grin and a bucket of water balloons marring her usual reserved demeanor.
My mom would be waving from our picnic blanket,
Piled high with Indian and American staples,
Laughing at some horrible joke my dad must have cracked behind the camera.
But I wouldn't be paying attention.
I would be busy listening to the heartbeat of the ocean,
The rhythmic beat of the waves.

I would be busy in my own wonderland,
A faraway expression on my face
Like I was homesick for the sky full of stardust and cotton-like clouds.
My hair would be swept up in a messy Dutch braid,
With the wind teasing some of the waist-length strands out of their strict pattern,
Like a crashing wave, like an uncertain future,
Like an unruly girl.

My right hand would hold an empty ice cream cone,
A runaway sprinkle on the corner of my mouth the only sign of my nostalgia
For the simple vanilla flavor of my youth.
As my child-like innocence fades with the sun,
My left hand delicately holds a blank, open book.
I hope to inscribe my story on its timeless pages someday.
I would be dressed in an aquamarine summer dress,
My tomboyish attitude sharply contrasting
My love for all things elegant.
Elegance, I believe, is measured by
The grace with which we wear our imperfections.
So, my face would be unfiltered and flawed,
Yet perfect for me.
My long legs would cast twin shadows behind me,
My past pushing me forward despite my mistakes and regrets.

There we would be,
Standing on the precipice of today,
A little scared,
A little uneasy,
But joyful because we would jump into the unknown and live every moment to the fullest
Together.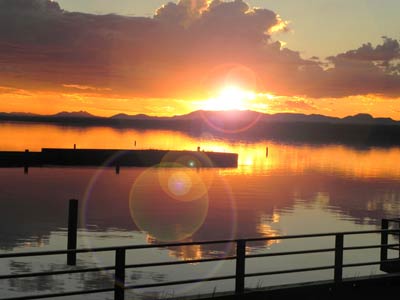 © Kellie K., Milford, OH