Under the Bridge
February 18, 2022
Under the bridge, in my old home town
There is a toad that I named Clown.
On his head lies a bright red wig which had fallen out of a circus rig.

Clown has a friend--Mrs. Potts
A fat old pony who clips and clops
She pulls a buggy every day for a jolly old man, Mr. Grey.

Over the bridge travels she
In time to hear a "Wee, wee, wee"
"What is it toad? Please tell me dear," says the fat old pony leaning down quite near.

The toad says, "I have a strange hat that came with a pitter-pat
That is called a wig from a circus rig.
I wish you would, Mrs. Potts dear, not lean down quite so near. I am in a terrible tizzy, as you can see I'm very dizzy.

Mrs. Potts is very confused, but calls down gently
"Those tears you need not have used.
For I am faithful to my friends! Even ones who start new trends".

A loud "neigh" from Mrs. Potts, and the sad toad's crying comes to a stop.
With a slap of the reigns and a pitter-pat
The fat old pony continues down the track.

And then the toad that I named Clown,
Waves goodbye and shouts, poor guy;
"I'll see you later, perhaps in town. But never forget your old friend Clown!"

Then the toad who started a trend
Went back under the bridge,
Never to be seen again.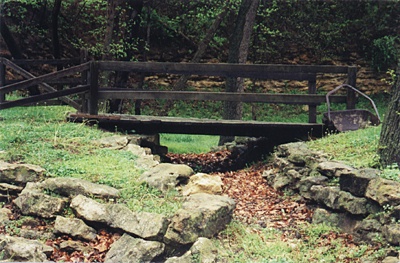 © Crystal B., St. Joseph, MO